In the current economic crisis caused by the COVID-19 pandemic, employers are laying off millions of workers and significantly cutting back on hiring new employees. Many businesses are no longer able to operate, or their operations have been limited, resulting in less demand for workers. The Conference Board®-Burning Glass® Help Wanted OnLine™ (HWOL) data series, collects millions of online job ads in real-time and classifies them by occupation, industry and location. This allows us to see which occupations are least in demand and which have been falling the fastest during this economic crisis.
The chart below shows the percent change in average daily new HWOL ads between February and the two weeks ending on April 11th, for selected occupations. As expected, there was a large drop in food services, lodging and travel, passenger transportation and sales related occupations. Demand for waiters and waitresses along with dishwashers has fallen by 79% nationwide as restaurants have been forced to suspend dine-in services. Hotel, motel, and resort desk clerks have experienced an 81% drop with most of the population unable or unwilling to travel due to COVID-19. In most cities, public transportation is still operational. But with fewer people traveling locally or commuting to work, the demand for bus drivers has fallen by 60% and the demand for taxi drivers has fallen by 65%. When millions of workers are being laid off in these industries, it is not surprising that hiring has also grounded to a halt.
(Click the chart for an enlargement)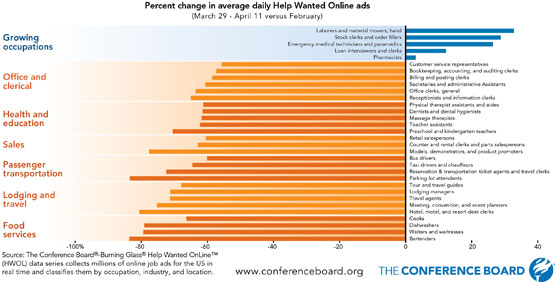 Perhaps more surprising is the large drop in several education, health and office and clerical occupations. Daycares and preschools are very contagious and have mostly shut down in accordance with social distancing initiatives. The closure of schools reduces demand for jobs that relate to dealing with kids in the class like teaching assistants, which experienced a 62% drop. Even essential health services such as dentists and dental hygienists have dropped by 61% where exposure to the mouth and other highly transmittable areas of the body are within close physical proximity.
Social distancing measures have forced offices to close, reducing the need for front office workers such as receptionists and information clerks (65% drop in demand). However, the large drop in many other office and clerical occupations is not entirely a result of the crisis in industries impacted by social distancing. For years now, these occupations have been on a downward trend due to automation and offshoring. With many companies now operating in survival mode, these occupations are likely to be among the first to go in cost cutting initiatives.
In the current economic climate, there are some occupations where hiring is actually expanding. The growing number of Americans diagnosed with COVID-19 has led to a greater need for emergency medical services such as emergency medical technicians and paramedics (26% growth in demand). Pharmacists and nurse anesthetists are in higher demand as well, in part due to the growing number of patients on ventilators requiring proper administration of sedative medication.
The closure of many restaurants and retail stores has led to more home cooking, more online shopping, and even initial panic buying. Many grocery stores, supermarkets, big-box retailers and online retailers such as Amazon have been rushing to fill shelves with the demand for stock clerks and order fillers growing by 29%. Related warehouse jobs such as hand laborers and material movers have increased in demand by 33%.
But for those unwilling to leave the house to get sick, or for those already sick not wanting to spread the disease, online food shopping has become increasingly popular. Instacart, FreshDirect, and other online grocers are growing in popularity where users can get same-day delivery on produce and other food items found in grocery stores. Home meal kit deliveries from Blue Apron, HelloFresh and others have also experienced strong growth. And for those restaurants that are still open, the use of delivery services such as GrubHub, Seamless and DoorDash has increased.
The economics crisis effects related to COVID-19 are unlikely to improve rapidly when social distancing measures become more relaxed. Many people will probably continue to avoid travelling and crowded spaces such as restaurants and retail stores. Companies that have taken large revenue hits are likely to continue to operate on shoestring budgets for much of the year.