Comment on US GDP report for Q1 2021 – Erik Lundh, Principal Economist, The Conference Board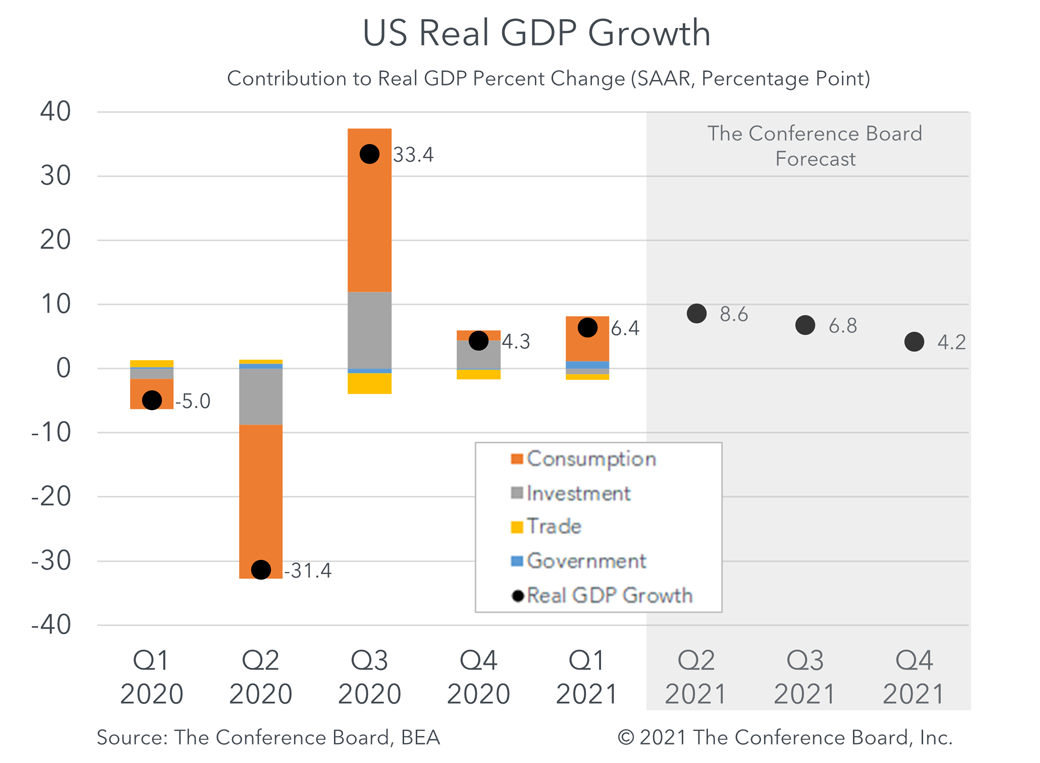 US Real Gross Domestic Product grew by 6.4 percent (annualized) during the first quarter of 2021, slightly below the consensus forecast and above The Conference Board's forecast of 5.0 percent. This quarterly annualized growth rate was up from the 4.3 percent rate seen in Q4 2020, when the economic recovery began to sputter due to a surge in new COVID-19 cases. Personal consumption expenditures were the primary driver of growth for the quarter – with spending on goods contributing 4.9 percent to total GDP growth and spending on services contributing 2.1 percent. While both residential and nonresidential investment growth contributions were positive, a large contraction in private inventories related to supply disruptions resulted in gross private domestic investment dragging down growth. Net exports also hurt growth for the quarter, but a large expansion in federal spending helped to push GDP growth somewhat higher. Finally, core PCE inflation for Q1 2021 remained subdued at 1.5 percent, but it is likely this number will rise in Q2 2021 due to basis effects and other factors.
While this growth rate shows improved economic output from one quarter to the next, it does not fully capture the turbulence seen over the first three months of 2021. New COVID-19 cases peaked in the US in early January just as the domestic vaccination campaign began and a new round of fiscal support worth $900 billion was implemented. While these conflicting forces ultimately resulted in a general pickup in economic activity in January, the addition of inclement weather weighed on the recovery in February. Additionally, global supply chain disruptions including the incident in the Suez Canal forced companies to draw down on private inventories. However, economic indicators catapulted forward in March as access to vaccines continued to expand, the severity of the pandemic moderated, and $1.9 trillion in additional fiscal support was approved and began to be distributed.
The US economy has entered Q2 2021 on very strong footing. The threat of COVID-19 in the US is ebbing rapidly as a growing share of the US population is undergoing vaccinations, and the prospect of 'herd immunity' draws closer. US labor markets have already begun to heal from the pandemic-induced recession and US consumers, armed with government stimulus checks, elevated savings, and pent-up demand for in-person services, should continue to drive rapid economic growth over the coming months as social distancing restrictions are lowered. Presently, we forecast quarter-over-quarter annualized economic growth of 8.6 percent in Q2 2021, 6.8 percent in Q3 2021, and 4.2 percent in Q4 2021.