Like many social areas, the arts have struggled to reach consensus on impact measurement metrics. Certainly, considerable progress has been made in terms of measuring economic impact as a result of the arts, led by Americans for the Arts and its Arts and Economic Prosperity series of research reports. But, as Business Contributions to the Arts: 2018 Edition reiterates, most companies are not measuring a standard set of social outcomes when it comes to the arts and that could be holding the sector back.
Chart 1 below outlines the variety of company objectives that companies believe their support for the arts can help them achieve. At the top of the list is improve the quality of life in the community, followed by contributes to the economy of the community, stimulate creative thinking and problem solving, and reaching underserved communities, all of which returned affirmative responses from majorities of companies of all sizes (save for one outlier).
Chart 1
But where is the evidence to demonstrate these companies' belief that the arts can help them achieve their objectives? In this year's survey, we asked respondents whether or not they measure a set of standardized outcomes related to arts impact. As Chart 2 shows, the majority (55 percent), do not.
Commonality and standardization of outcomes are key to improving impact measurement overall. If the sector can start to rally around a set of universal outcomes, then it can start to inject more rigor into its measurement and ultimately tie performance on those outcomes back to business objectives.
The outcomes in Chart 2 are drawn from the Impact Genome Project®, an initiative of Mission Measurement that has scoured through thousands of literature sources to determine a series of universal outcomes targeted by social initiatives in Arts, Criminal Justice, Critical Human Needs, Culture and Identity, Economic Development, Education, International Development, Public Health, Sustainability and Environment, and Youth Development. The project is a leading effort to standardize measurement and reporting of social impact outcomes.
Chart 2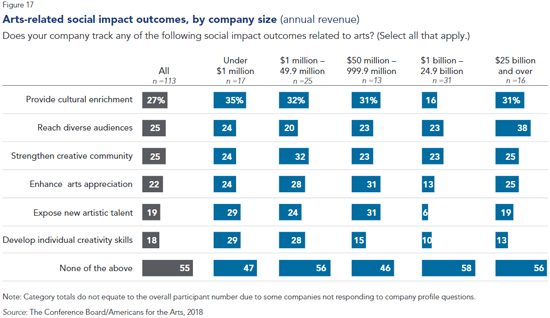 When looking at Charts 1 and 2 together, we can start to see how reporting standardized social outcomes can serve the business community. For example:
Seventy-nine percent of companies (or as many as 88 percent of the largest companies) believe the arts can improve the quality of life in the community. How can you prove that? You could start by looking at whether the arts programs you fund are providing cultural enrichment.
Fifty-three percent of companies believe the arts can stimulate creative thinking and problem solving. But how do you know? Try looking at whether you're strengthening the creative community, or developing individual creativity skills.
Half of companies believe the arts can help in reaching underserved communities—there are standardized outcomes to indicate that: consider measuring reaching diverse audiences or enhancing arts appreciation.
There are a number of other correlations between these two tables, but for now our data reveal a strong argument that companies are not pushing for this type of measurement.
Our data also show that corporate funding for the arts is in a strong position. That means that now is the time to take on the challenge of being more rigorous in the measurement of arts programs to help ensure sustained contributions over the long term. The Impact Genome Project® is providing the first steps to help align that effort. Companies would benefit from stepping up to the plate.