President George H.W. Bush (41) had a tremendous influence on the growth of corporate volunteering. When he established Points of Light in 1990, the National Council on Workplace Volunteering (NCWV) became part of his movement. Today, employee volunteer programs are an integral part of a company's corporate social responsibility (CSR) program and NCWV is bigger and stronger than ever, leading the way as the Corporate Service Council.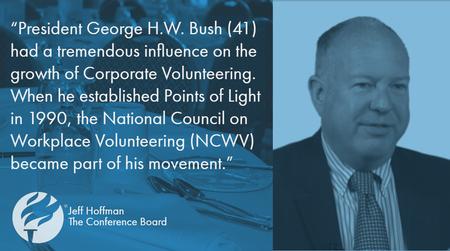 My own experience leading corporate volunteering can be traced to President Bush. When I worked in Adventureland at Disneyland in college, the Disneyland Community Action Team was founded and I was a part of the group. I wanted to form a similar group at The Walt Disney Studios where I worked after college graduation. Michael Eisner, then CEO of The Walt Disney Company, was appointed a Founding Board Member of Points of Light by President Bush. That was all the impetus I needed and the next thing I knew I was building the Disney VoluntEARS program that I took national and ultimately grew to more than 50 countries globally.
While employee volunteering had been around for quite a few years, it really exploded in the 1990s. During this decade, The Conference Board, in conjunction with Points of Light, wrote two pieces of important research. The first in 1993, "Corporate Volunteer Programs: Benefits to Business," was the first comprehensive report written on the benefits of employee volunteer programs. It found that these programs were increasingly valued for their role in meeting strategic business goals, helping build a quality workforce, continuing to provide public and community relations benefits, and targeting education as their top priority. In 1997, both organizations expanded on the 1993 research with the publication of "Corporate Volunteerism: How Families Make A Difference."
President Bush established the National and Community Service Act of 1990 that laid the groundwork for President Clinton to establish AmeriCorps. AmeriCorps members often work with corporate volunteers, today leveraging the skills both bring to community problem solving.
In 1997, General Colin Powell chaired the Presidents' Summit for America's Future, which brought all of the living Presidents and Nancy Reagan together to encourage people to volunteer. Leaders of governments, businesses and nonprofits gathered in front of Independence Hall in Philadelphia to make a commitment to America's Promise. The summit was co-convened by Points of Light and the Corporation for National and Community Service. President Clinton was the President and continued the legacy started by his predecessor.
In the aftermath of September 11, President George W. Bush (43) called 18 CEOs (most all The Conference Board members) to The White House to create Business Strengthening America, an initiative to help the nation heal through service to others. Eventually, over 500 corporations signed on and, through internal efforts with employees and external efforts with customers, encouraged millions to volunteer. President Bush (41) and Barbara taped a public service announcement for the initiative. Points of Light led the effort for The White House and I was honored to have been the co-chair of Business Strengthening America.
Corporate volunteering now spans the globe. Employees use their expertise to partner with NGOs on how to attain the United Nations Sustainable Development Goals. Employees help adults how to read, they provide needed help to schools, and you see them out in force beautifying communities and cleaning up the environment. As we celebrate the life of President George H. W. Bush, let us remember his role as a catalyst working with companies to establish volunteer programs and inspiring their employees to serve.