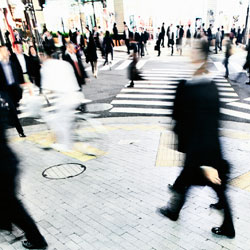 Human Capital Watch™
Human Capital Watch™: Developing Leaders @ All Levels
April 2013
17 April, 2013 | (01 hr)
To view the on demand recording of this webcast, your company must be a member of The Conference Board. Please sign in or create an account and you'll instantly be given access to all our member benefits, including this recording and our entire webcast archive.
Developing top-level executives is vital for managing organizations through chaos. However, in an era of rapid change and turbulence, organizations need leaders at all levels performing and executing to strategic goals, not just the few leaders at the top. Organizations need to build leadership capabilities across the entire enterprise – from young leaders to high-potential employees and executive-level, senior directors.
Organizations may struggle to understand the development needs of different leaders at various levels, and what type of initiatives would provide maximum impact from investment dollars. On this Human Capital Watch web cast, Amy Abel, Ph.D., Director of Human Capital Research, The Conference Board will provide specific examples of successful leadership development efforts across industries, including the identification of potential leaders, the skills and competencies that need to be targeted, and the value and impact that this would bring to the organization. Amy will be joined by James O'Hern, Director of Learning and Development, Hess Corporation, Marketing and Refining; Lee WanVeer, Vice-President of The Learning Organization, Prudential Financial; and Stanley S. Litow, Vice President of Corporate Citizenship & Corporate Affairs, IBM.
Join us for this important conversation focusing on unique ways to engage all the leaders within your organization.
Series Host
Rebecca L. Ray, Ph.D.
Senior Vice President, Human Capital, The Conference Board

Rebecca Ray is senior vice president, human capital at The Conference Board and the leader of the Human Capital Practice. Human capital research at The Conference Board focuses on human capital analytics, labor markets, workforce readiness, strate... Full Bio
Speakers
Lee WanVeer
Vice-President of The Learning Organization
Prudential Financial

Lee WanVeer is a Vice-President of The Talent Organization for Prudential Financial, and is responsible for Enterprise Management - Leadership Development and Executive Coaching. Lee has also provided OD consulting for many business un... Full Bio

Stanley S. Litow
Vice President, Corporate Citizenship & Corporate Affairs
IBM
President, IBM's International Foundation

Stanley S. Litow is IBM's Vice President of Corporate Citizenship & Corporate Affairs and President of IBM's Foundation. Under his leadership, IBM has been widely regarded as the global leader in Co... Full Bio

James O'Hern
Director, Learning and Development
Hess Corporation, Marketing and Refining

Jim O'Hern is Director of Learning and Development for the Marketing and Refining business at Hess Corporation. In that role Jim assists with design and development of the corporate Leadership Development Programs and the "Hess Learnin... Full Bio

Amy Lui Abel, Ph.D. (Moderator)
Director, Human Capital Research
The Conference Board

Amy Lui Abel is the director of human capital research at The Conference Board. She leads research efforts focusing on human capital analytics, labor markets, workforce readiness, strategic workforce planning, talent management, diversity and incl... Full Bio