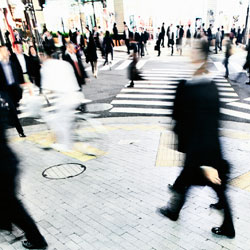 Human Capital Watch™
Human Capital Watch™: Raising Engagement/U.S. Job Satisfaction
February 2013
20 February, 2013 | (01 hr)
To view the on demand recording of this webcast, your company must be a member of The Conference Board. Please sign in or create an account and you'll instantly be given access to all our member benefits, including this recording and our entire webcast archive.
As the economy continues to recover sluggishly and companies continue to operate with increased pressure on profits and productivity, the importance of employee engagement becomes even more critical. In our 2012 Job Satisfaction Survey, respondents indicated higher levels of job satisfaction for the first time since the recession began in 2008. However, while the increasing levels may be a positive sign, these levels are still far below historical satisfaction rates as the general trend line continues to point downward. And the most recent data from the upcoming "2013 Job Satisfaction Report" we'll share shows that we've still go a long way to go on this critical component of employee engagement.
To better understand the current state of engagement, a research working group of experienced practitioners and researchers at The Conference Board partnered to discover how companies are finding success, even in these difficult times. What are the most common engagement related challenges? How do successful organizations determine the overall approach to building an engagement culture? What evidence exists that these actions had business impact or were otherwise successful? We'll share the top line findings of the research working group report, "Employee Engagement: What Works Now?"
Join Rebecca L. Ray, Ph.D., Senior Vice President of Human Capital, The Conference Board, as she moderates a panel discussion with Kathleen M. Fitzpatrick, Director of Credo & Workplace Engagement at Johnson & Johnson; Jay Long, SP Personnel at Michelin on the engagement results. Thomas Rizzacasa, Research Analyst of The Conference Board, will join Rebecca to discuss the top line findings of the 2013 Job Satisfaction report.
Series Host
Rebecca L. Ray, Ph.D.
Senior Vice President, Human Capital, The Conference Board

Rebecca Ray is senior vice president, human capital at The Conference Board and the leader of the Human Capital Practice. Human capital research at The Conference Board focuses on human capital analytics, labor markets, workforce readiness, strate... Full Bio
Speakers
Thomas Rizzacasa
Research Analyst, Human Capital
The Conference Board

Thomas Rizzacasa is a research analyst in human capital at The Conference Board. His research interests include employee engagement, talent management and labor markets.

Tom graduated from The Isenberg School of Management, University of M... Full Bio

Kathleen Fitzpatrick
Director, Credo and Workplace Engagement
Johnson & Johnson

Kathy joined Johnson & Johnson over twenty-five years ago and has held financial and human resource leadership positions within Corporate, Consumer, Pharmaceutical and Medical Devices segments. In her current position, Kathy is responsible for... Full Bio

Jay Long
Projects Manager, Personnel - Employee & Labor Relations
Michelin North America

Jay Long possesses over 25 years experience in manufacturing. He currently works at MICHELIN North America as a Project Manager in Personnel, on the Employee/Labor Relations team, focusing specifically on issues related to Employee Engag... Full Bio