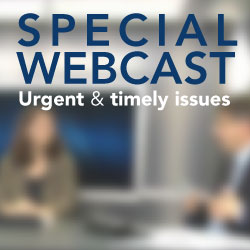 Special Webcast
New Trends in SRM
Balancing Short-Term Cost Pressures with Long-Term Benefits of Collaborative Supplier Relationships
03 April, 2012 | (01 hr)
In our current challenging economy, procurement professionals are under tremendous pressure to extract short-term cost savings from suppliers. Yet such efforts are often highly counterproductive over the long-term. In order to stay competitive, organizations need to be able to work with suppliers in a structured and strategic fashion to reduce costs over both near and long-term time horizons, spur innovation, ensure continuity of supply, and secure preferential access to unique supplier assets and expertise.
During this webcast, you will hear how leading companies are using SRM to balance the pressures of containing costs with the ability to foster supplier relationships that are based on transparency, trust and the establishment of long-term mutually beneficial engagements.
In viewing, participants will...
Learn how to use SRM to optimally balance competitive pressure with collaborative engagement across the supply base
Explore ways to engage suppliers to drive near-term cost savings without damaging important relationships
Gain an understanding of the methods to drive cost savings through joint innovation
Uncover the ways to gain buy-in and support from internal business partners and senior leadership to enable more strategic engagement with suppliers
Audience: The webcast is intended senior executives in supply chain, sourcing, procurement, finance, strategy, and operations to learn how to best leverage relationships to drive greater value.
Speakers
Jessica Wadd
Senior Consultant
Vantage Partners

Jessica Wadd is a Senior Consultant with Vantage Partners, LLC where much of her work focuses on the firm's Supplier Management practice. During her time with Vantage, Jessica has worked with several firms across the financial services... Full Bio

Cathy Kutch
Director, Supplier Relations and Diversity
The Kellogg Company

Cathy has worked at the Kellogg Company for 25 years. Most of those years have been involved with suppliers from the plant environment through to the corporate strategic initiatives. Her passion is mutual alignment and value for both t... Full Bio