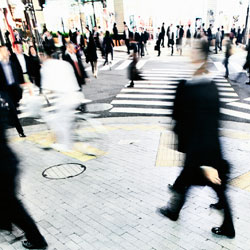 Human Capital Watch™
Human Capital Watch™: Talent Management Tomorrow
August 2012
15 August, 2012 | (01 hr)
Talent Management Tomorrow: Seeing Around the Corner to Meet Strategic Business Needs
To view the on demand recording of this webcast, your company must be a member of The Conference Board. Please sign in or create an account and you'll instantly be given access to all our member benefits, including this recording and our entire webcast archive.
Join Rebecca L. Ray, Ph.D., Senior Vice President, Human Capital, The Conference Board, for our next Human Capital Watch web cast, as she moderates a panel discussion with Amy Lui Abel, Ph.D., Director, Human Capital Research at The Conference Board, Eric D. Elder, Ph.D., Director, Talent Management at Corning Incorporated, and Allan Church, Ph.D., VP, Global Talent Development for Pepsico, Inc. Participants will discuss key factors that Talent Management executives view as having a strong impact on their organizations.
Even though Talent Management is an emerging discipline, often it remains stagnant, trapped in old systems and semantics that are presently inadequate to address your organization's future growth and competition needs. Talent Management must change to keep up with global transformation and instability. The new Council Perspectives report, soon to be released by The Conference Board, includes the work of seven geographically dispersed Councils of The Conference Board focused on Talent Management and other related disciplines, and assesses the current state of the function and then "peeks around the corner" to see what challenges lie ahead. This study reflects the discussions, concerns, and conclusions of Council members – all respected executives in the field – who are tasked with getting the right people in the right seats at the right cost to ensure the future competitiveness and success of their organizations.
Beyond discussing the conclusions found in this report, this web cast will also examine the opportunities and challenges for the future of the profession in the next five to ten years. New survey results, which highlight talent management professionals' view of the function, will also be discussed.
Series Host
Rebecca L. Ray, Ph.D.
Senior Vice President, Human Capital, The Conference Board

Rebecca Ray is senior vice president, human capital at The Conference Board and the leader of the Human Capital Practice. Human capital research at The Conference Board focuses on human capital analytics, labor markets, workforce readiness, strate... Full Bio
Speakers
Allan Church, Ph.D.
VP, Global Talent Development
PepsiCo, Inc.

Dr. Church is responsible for leading the enterprise wide talent management and people development agenda for PepsiCo. This includes responsibility for the People Planning process, high-potential identification programs, the Performance Management... Full Bio

Amy Lui Abel, Ph.D.
Director, Human Capital Research
The Conference Board

Amy Lui Abel is the director of human capital research at The Conference Board. She leads research efforts focusing on human capital analytics, labor markets, workforce readiness, strategic workforce planning, talent management, diversity and incl... Full Bio

Eric D. Elder, Ph.D.
Director of Talent Management
Corning Incorporated

Dr. Eric D. Elder joined Corning in May 2008, as director of Talent Management. In this role, he is responsible for Corning's global talent management processes focused on talent acquisition, talent planning, and talent d... Full Bio