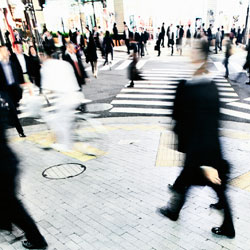 Human Capital Watch™
Human Capital Watch™: Human Capital Challenges in China
June 2012
20 June, 2012 | (01 hr)
To view the on demand recording of this webcast, your company must be a member of The Conference Board. Please sign in or create an account and you'll instantly be given access to all our member benefits, including this recording and our entire webcast archive.
In our 2012 CEO Challenge Survey, CEOs were asked to rank their top challenges in the next twelve months: human capital ranked second globally, right after innovation among all CEOs. However, in high-growth China, it was ranked as the number one challenge. What did CEOs rank as their most important strategies to address the human capital challenge in China? What are the unique talent challenges in China and how are human capital professionals addressing them? What can companies do to attract, develop and retain talent in this "white hot" market for talent? What are the implications of China's current five-year plan?
Join Rebecca L. Ray, Ph.D., Senior Vice President of Human Capital, The Conference Board, as she moderates a panel discussion with Shi Bisset, Founder of Shanghai-based Shi Bisset & Associates; as well as Dr. Amy Lui Abel, Research Director, Human Capital and Lindsay Collins, Research Analyst both of The Conference Board. The webcast will feature research highlights of several recent works, including the 2012 CEO Challenge, Human Capital Challenges in Asia Pacific (Series), and Reading the Tea Leaves: The Impact of China's 12th Five-Year Plan on Human Capital Challenges.
Series Host
Rebecca L. Ray, Ph.D.
Senior Vice President, Human Capital, The Conference Board

Rebecca Ray is senior vice president, human capital at The Conference Board and the leader of the Human Capital Practice. Human capital research at The Conference Board focuses on human capital analytics, labor markets, workforce readiness, strate... Full Bio
Speakers
Amy Lui Abel, Ph.D.
Director, Human Capital Research
The Conference Board

Amy Lui Abel is the director of human capital research at The Conference Board. She leads research efforts focusing on human capital analytics, labor markets, workforce readiness, strategic workforce planning, talent management, diversity and incl... Full Bio

Lindsay Collins
Project Manager, Research
The Conference Board

Lindsay Collins is project manager, research at The Conference Board. She is responsible for the organizational, administrative, and financial management of research projects across knowledge areas, with specific focus on organization wide and thi... Full Bio

Shi Bisset
Senior Fellow, Human Capital
The Conference Board

Shi Bisset is a Senior Fellow, Human Capital at The Conference Board. In this role, Shi supports the Human Capital Practice which includes The Conference Board Human Capital Exchange™, research, conferences, webcast... Full Bio