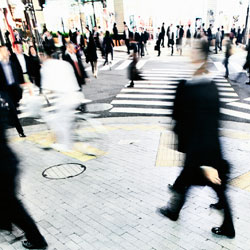 Human Capital Watch™
Human Capital Watch™: 21st Century Talent Mobility
May 2012
16 May, 2012 | (01 hr)
21st Century Talent Mobility
To view the on demand recording of this webcast, your company must be a member of The Conference Board. Please sign in or create an account and you'll instantly be given access to all our member benefits, including this recording and our entire webcast archive.
Even in the face of high unemployment rates across the globe, many employers report difficulty securing the talent they require to conduct their operations, particularly among higher skilled employees. If global labor markets were truly efficient, such talent gaps could not persist. Pay adjustments and talent mobility would correct this problem. So, what inhibits these forces from coming sufficiently into play?
Throughout 2011, Mercer worked with the World Economic Forum to conduct extensive global research on the challenge of talent gaps, and how more effective talent mobility can work to spur economic growth. These findings are documented in the WEF/Mercer report, Talent Mobility Good Practices: Collaboration at the Core of Driving Economic Growth.
Join Rebecca L. Ray, Senior Vice President of Human Capital, The Conference Board, as she moderates a panel discussion with Haig R. Nalbantian, Senior Partner and co-leader of Mercer's Workforce Sciences Institute, who led the research team that conducted the WEF/Mercer study, Rocca D'Angela, Director of Talent Research for the Centre of Excellence in Financial Services Education, and Makoto Miyasako, Head of the Strategy and Business Analysis Group of Human Resource Management for the Organization for Economic Co-operation and Development (OECD). This webcast will provide an overview of the report's key findings, and their implications for business and public policy action. We will also detail how four critical impediments to securing effective talent calls out for a much broader definition of talent mobility. Finally, we will share insights about the vital role of multi-stakeholder collaboration in producing successful talent mobility solutions, using examples such as the Toronto Financial Services Alliance. This session will offer new insights into both the challenges and opportunities for managing mobile talent in the global economy.
Series Host
Rebecca L. Ray, Ph.D.
Senior Vice President, Human Capital, The Conference Board

Rebecca Ray is senior vice president, human capital at The Conference Board and the leader of the Human Capital Practice. Human capital research at The Conference Board focuses on human capital analytics, labor markets, workforce readiness, strate... Full Bio
Speakers
Haig R. Nalbantian
Senior Partner and Founder
Mercer Workforce Sciences Institute

Haig R. Nalbantian is a Senior Partner and a founder/leader of Mercer Workforce Sciences Institute. A labor /organizational economist, he has been instrumental in developing Mercer's unique capability to measure the economic impact of... Full Bio

Rocca D'Angela
Director, Talent Research
Centre of Excellence in Financial Services Education

Rocca D'Angela is the Director of Talent Research for the Centre of Excellence in Financial Services Education. She has over 25 years of experience working in financial services, with a particular focus on talent development for financ... Full Bio

Makoto Miyasako
Head of the Strategy and Business Analysis Group, Human Resource Management
Organization for Economic Co-operation and Development

Makoto Miyasako is the Head of the Strategy and Business Analysis Group of Human Resource Management for the Organization for Economic Co-operation and Development (OECD).

Makoto is a Japanese national. He joined the OECD in 2007... Full Bio