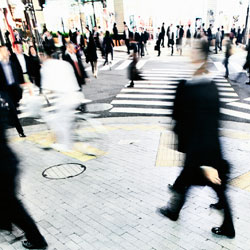 Human Capital Watch™
Human Capital Watch™: Revisiting the Competencies for D&I Practitioners
18 April, 2012 11:00 AM EST [11:00] | 01 hr
18 April, 2012 | (01 hr)
Revisiting the Competencies for Diversity and Inclusion Practitioners and Organizations
To view the on demand recording of this webcast, your company must be a member of The Conference Board. Please sign in or create an account and you'll instantly be given access to all our member benefits, including this recording and our entire webcast archive.
Three years ago, The Conference Board published the report, Creating a Competency Model for Diversity and Inclusion Practitioners, which identified seven competencies necessary for successful D&I professionals. In the years since this report was published, expanding markets and shifting economic conditions have continued to re-shape the business landscape.

In the next HC Watch, we will explore the relevance of those seven competencies today, the extent to which they have become more or less critical and the need for additional competencies as we look ahead to the future market and workplace, as well as to the future of the D&I profession.

Join Rebecca L. Ray, Senior Vice President of Human Capital, The Conference Board, as she moderates a panel discussion with Toni Riccardi, Senior Vice President of Human Resources and Chief Diversity Officer, The Conference Board. The panel will feature three individuals who were significantly involved in the creation of this original publication: Dr. Rohini Anand, Senior Vice President and Global Chief Diversity Officer, Sodexo; Eric Watson, Vice President, Office of Diversity & Inclusion, Delhaize America; and Dr. Indra Lahiri, Diversity Consultant and author of the report.

Please note that this report will also be available for download during the web cast.
Series Host
Rebecca L. Ray, Ph.D.
Senior Vice President, Human Capital, The Conference Board

Rebecca Ray is senior vice president, human capital at The Conference Board and the leader of the Human Capital Practice. Human capital research at The Conference Board focuses on human capital analytics, labor markets, workforce readiness, strate... Full Bio
Speakers
Indra Lahiri, Ph.D.
Founder
Global Inclusion Strategies

Indra Lahiri, Ph.D. is an organizational psychologist, industrial anthropologist and founder of Global Inclusion Strategies. Her clients routinely win national awards and recognition for diversity and organizational development efforts supported b... Full Bio

Dr. Rohini Anand
Senior Vice President and Group Chief Diversity Officer, Inclusion
Sodexo

Dr. Rohini Anand is Senior Vice President and Global Chief Diversity Officer for Sodexo and is responsible for the strategic direction, implementation, and alignment of Sodexo's integrated global diversity initiatives including sustaina... Full Bio

Eric Watson
Vice President, Office of Diversity & Inclusion
Delhaize America

Eric Watson is Vice President of the Office of Diversity & Inclusion for Delhaize America, which comprises the Food Lion Family of Banners (Food Lion, Bloom, Harveys, Reid's), Bottom Dollar Food, Hannaford Brothers, and Sweetbay Supermar... Full Bio

Toni Riccardi (Moderator)
Chief Diversity Officer
The Conference Board

Toni L. Riccardi is the chief diversity officer for The Conference Board. She also serves as the subject matter expert for the external diversity content and programs of The Conference Board.

Previously, Riccardi was a principal with the g... Full Bio