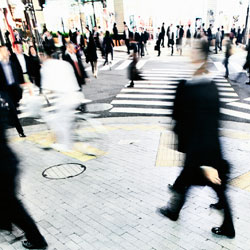 Human Capital Watch™
Human Capital Watch™: 2012 Labor Market Forecast
2012 Labor Market Forecast: What Lies Ahead
15 February, 2012 | (01 hr)
To view the on demand recording of this webcast, your company must be a member of The Conference Board. Please sign in or create an account and you'll instantly be given access to all our member benefits, including this recording and our entire webcast archive.
What is the outlook for labor markets across the globe? As the global economy continued to slow down in most regions of the world in 2011, an even slower expansion is expected in 2012. All eyes are on Europe, where the sovereign debt and banking crisis is far from over. The U.S. economy has held steady in recent months, but there are significant risks moving into 2012.
In this HC watch we will discuss the implications for labor markers in the U.S (Gad Levanon), Europe (Christoph Hilbert and Bert Colijn) and Asia with a particular focus on China (Andrew Polk).
What is the outlook for employment, unemployment, compensation, availability of workers, and competitiveness? We'll discuss these questions and more.
Series Host
Rebecca L. Ray, Ph.D.
Senior Vice President, Human Capital, The Conference Board

Rebecca Ray is senior vice president, human capital at The Conference Board and the leader of the Human Capital Practice. Human capital research at The Conference Board focuses on human capital analytics, labor markets, workforce readiness, strate... Full Bio
Speakers
Gad Levanon, Ph.D.
Director of Macroeconomic Research
The Conference Board

Gad Levanon is director of macroeconomic research at The Conference Board, where he also leads the labor markets program. He also serves on The Demand Institute™ leadership team.

Levanon created ... Full Bio

Bert Colijn
Labor Market Economist, Europe
The Conference Board

Bert Colijn is a labor market economist that focuses on the European market. He works on the European Commission FP7 project NEUJOBS, focusing on productivity and economic growth in Europe in 2025. Besides this, he works on developing European ind... Full Bio

Andrew Polk
Economist
The Conference Board

Andrew Polk is the resident economist at The Conference Board China Center for Economics and Business in Beijing. Previously, Polk worked at the Institute of International Finance, where he conducted macroeconomic analysis on emerging markets in t... Full Bio

Christoph Hilbert, Ph.D.
Director, Human Capital Research, Europe
The Conference Board

Christoph Hilbert is Director Human Capital Research Europe at The Conference Board. Christoph is planning, designing and managing distinctive research in the field of labor, education & training, talent and human resource for ... Full Bio