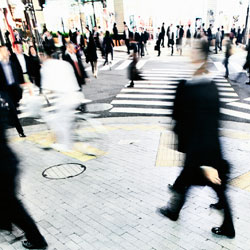 Human Capital Watch™
Human Capital Watch™
18 January, 2012 | (01 hr)
To view the on demand recording of this webcast, your company must be a member of The Conference Board. Please sign in or create an account and you'll instantly be given access to all our member benefits, including this recording and our entire webcast archive.
The results of The Conference Board CEO Challenge® 2012 survey are in!
Since 1991, The Conference Board has asked CEOs for their perspectives on key business challenges and to discuss strategies companies undertake to address them. Rebecca will share the top-line results and discuss the strategies CEOs have selected to address human capital challenges.
Joining Rebecca for this webcast are Bill Sullivan, President and CEO of Agilent Technologies and Dr. Teresa Roche, Vice President and Chief Learning Officer, Agilent Technologies to discuss both findings of the survey and the strategies that will be used by this global technology leader to address key challenges.
Series Host
Rebecca L. Ray, Ph.D.
Senior Vice President, Human Capital, The Conference Board

Rebecca Ray is senior vice president, human capital at The Conference Board and the leader of the Human Capital Practice. Human capital research at The Conference Board focuses on human capital analytics, labor markets, workforce readiness, strate... Full Bio
Speakers
Teresa Roche, Ph.D.
Vice President and Chief Learning Officer
Agilent Technologies, Inc.

Teresa Roche is Vice President and Chief Learning Officer at Agilent Technologies, Inc. In this role, she is the lead architect and portfolio manager for the company's leadership development solutions.

Her global team is ... Full Bio

William P. Sullivan
President & CEO
Agilent Technologies

William P. (Bill) Sullivan is president and chief executive officer of Agilent Technologies. Prior to his appointment in March 2005, Sullivan was the company's Executive vice president and chief operating officer.

Sullivan, who was s... Full Bio