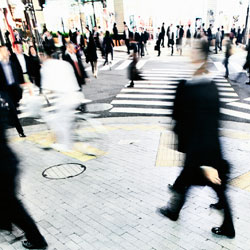 Human Capital Watch™
Human Capital Watch™
Leadership Development
14 December, 2011 | (01 hr)
To view the on demand recording of this webcast, your company must be a member of The Conference Board. Please sign in or create an account and you'll instantly be given access to all our member benefits, including this recording and our entire webcast archive.
The Conference Board CEO Challenge® 2011 survey revealed that leadership development was a major issue for companies around the world. In this webcast, we will hear which companies made the "Best Companies for Leadership Development" and from two companies who are on the right path.
Joining Rebecca for our December webcast will be Geoff McDonald, Global Vice President, HR Marketing, Communications, Sustainability & Water, Unilever; Klaus D. Mittorp, Senior Vice President, Hay Group; Maija Van Langendonck, Director, Global Diversity and Inclusion, Cargill; and David Learmond, Senior Fellow, Human Capital, The Conference Board.
Series Host
Rebecca L. Ray, Ph.D.
Senior Vice President, Human Capital, The Conference Board

Rebecca Ray is senior vice president, human capital at The Conference Board and the leader of the Human Capital Practice. Human capital research at The Conference Board focuses on human capital analytics, labor markets, workforce readiness, strate... Full Bio
Speakers
David Learmond
Senior Advisor and Senior Fellow, Human Capital
The Conference Board

David Learmond is a senior advisor and senior fellow in human capital at The Conference Board. In these roles, he supports the human capital practice, which includes Human Capital Exchange™, research, conferences, w... Full Bio

Geoff McDonald
Global Vice President, HR Marketing, Communications, Sustainability & Water
Unilever

Geoff has had a great 21 years with Unilever. The first 8 years were spent working in various HR Roles in South Africa, where he then transferred to London and worked across Africa, Middle East and Turkey for 5 years and found it absolutely fascin... Full Bio

Klaus D. Mittorp
Senior Vice President
Hay Group

Klaus is a seasoned international professional with firsthand experience at senior level across most of the spectrum of people-related issues. His background covers both operational and strategic aspects, particularly in business-driven change sit... Full Bio

Maija Van Langendonck
Director, Global Diversity and Inclusion
Cargill

Maija Van Langendonck is one of the Global leads in the Cargill Diversity and Inclusion Team. In this role, Maija advises and supports the businesses in the development and execution of their Diversity and Inclusion Strategy as well as using best ... Full Bio