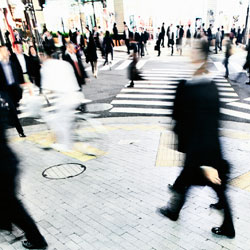 Human Capital Watch™
Human Capital Watch™
Employee Engagement
16 November, 2011 | (01 hr)
To view the on demand recording of this webcast, your company must be a member of The Conference Board. Please sign in or create an account and you'll instantly be given access to all our member benefits, including this recording and our entire webcast archive.
In the past three years, massive layoffs and restructuring, mergers and acquisitions, government bailouts and regulations, geo-political turmoil and natural disasters have taken their toll on employee psyches. Particularly acute in the developed markets of the West, financial pressures at home and increased workloads in the office can impact employees—the lucky ones who remain employed—in terms of focus, productivity, teamwork, and innovation. Those remaining employees at companies in "survival mode" face additional pressures: constant change, 24/7 accessibility, heightened production goals, a frenetic pace, shortened innovation cycle have impacted people and organizations… a perfect storm for disengagement and burnout.
Engagement has seldom been more critical to business performance. In this broadcast, we'll share recent research from both The Conference Board and the Gallup Organization and hear from practitioners who will share the specific challenges, actions and successes as they look to raise levels of employee engagement in the today's workplace.
Joining Rebecca for our November webcast will be Jessica Tyler, Ed.D., Practice Leader, Employee Engagement and Wellbeing, Gallup Organization, Karen Fowler-Williams, Senior Vice President, Employee Relations & EEO, Lincoln Financial Group, Jim Hauden, Chief Executive Officer, Root Learning, and Joseph Toto, Senior Fellow, Human Capital, The Conference Board.
Series Host
Rebecca L. Ray, Ph.D.
Senior Vice President, Human Capital, The Conference Board

Rebecca Ray is senior vice president, human capital at The Conference Board and the leader of the Human Capital Practice. Human capital research at The Conference Board focuses on human capital analytics, labor markets, workforce readiness, strate... Full Bio
Speakers
Joseph Toto
Senior Fellow, Human Capital
The Conference Board

Joe Toto is a Senior Fellow, Human Capital at The Conference Board. In this role, Toto supports the Human Capital Practice which includes The Conference Board Human Capital Exchange™, research, conferences, webcasts... Full Bio

Karen Fowler-Williams
Senior Vice President, Employee Relations & EEO
Lincoln Financial Group

Karen Fowler-Williams serves as vice president of Employee Relations for Lincoln Financial Group. In this role, Fowler-Williams oversees HR policy development, Equal Employment Opportunity (EEO) compliance and risk management, the Employee Engagem... Full Bio

Jessica Tyler, Ed.D.
Practice Leader, Employee Engagement and Wellbeing
Gallup Organization

Jessica Tyler, Ed.D., leads Gallup's Employee Engagement and Wellbeing practices. In this role, Tyler oversees the direction of the marketing, research and development, technology, and operational efforts to meet the needs of Gallup clients.... Full Bio

Jim Hauden
Chief Executive Officer
Root Learning

Jim Haudan is co-founder and Chief Executive Officer of Root Learning. He has more than 20 years of experience helping organizations and individuals unleash hidden potential by fully engaging people in the critical changes of their business. ... Full Bio