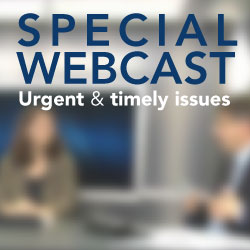 Special Webcast
Research Partners on Raising Employee Engagement: What Works Now?
An Invitation to Partner with TCB on Important Research
13 September, 2011 | (01 hr)
Sign In to access this Webcast
The case has been made that leaders can enhance the performance of their organizations by focusing on increasing levels of employee engagement. However, there is constant pressure in an organization to grow the business while limiting investments, and employees are stretched in terms of the quantity and quality of the work demanded of them. Conference Board members have asked us to research tested approaches to building employee engagement, even in times of resource constraint, and the connection between engagement, top talent retention, and amplified business results.
This October, The Conference Board will convene a Research Working Group (RWG) on effective approaches to building employee engagement. This research process will outline the specific organizational, executive and managerial actions that can be taken by line leaders and Human Capital professionals to achieve a variety of employee engagement-driven outcomes. Current participating companies include Caterpillar and Supervalu. This webcast will outline the issues to be addressed, the participation fee and the RWG process. There will be time for audience questions.
Research Working Groups are only available to member companies of The Conference Board and typically last six months. Two executives from each company partner with their peers and skilled researchers and to jointly review existing data and frameworks and generate new data as necessary. The RWG will result in a comprehensive overview that details findings, conclusions and recommendations for employers of all sizes and industries.

Audience: This webcast and Research Working Group will be of interest to executives responsible for the hiring, development and retention of talent who are exploring participation in the Research Working Group.


Speakers
Brian Powers
Senior Fellow, Human Capital
The Conference Board

Brian Powers is senior fellow, human capital at The Conference Board. In this role, Brian supports the human capital practice, which includes The Conference Board Human Capital Exchange™, research, conferences, webc... Full Bio

Rebecca L. Ray, Ph.D.
Senior Vice President, Human Capital
The Conference Board

Rebecca Ray is senior vice president and the leader of the global Human Capital Practice. Human capital research at The Conference Board focuses on human capital analytics, labor markets, workforce readiness, strategic workforce planni... Full Bio

Daria Lamb (Moderator)
Director, Research Working Groups
The Conference Board

Daria Lamb has been director of The Conference Board Research Working Groups since February 2011. In this role, she works closely with economists, human capital researchers, and governance professionals from The Conference Board offices in the Uni... Full Bio