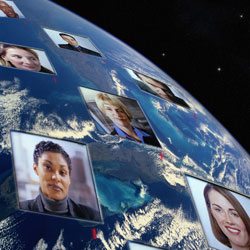 Conference KeyNotes
Risk Governance and Technology Systems
23 March, 2011 | (01 hr)
This Conference KeyNotes Webcast will include discussion of key findings and video clips from The 2010 Enterprise Risk Management Conference.
The discussion will cover:
The New Risk Governance Focus of Boards and Executive Management
Finding the Right Risk Technology System
Participants will have the opportunity to pose questions to the speakers.
Who Should Attend:
Executives responsible for Enterprise Risk and Risk Management.
Speakers
Robert L. Burrus Jr.
Partner/Chairman Emeritus
McGuireWoods

Robert Burrus Jr. has been Chairman Emeritus and Senior Partner in the law firm of McGuireWoods LLP, Richmond, Virginia since 2007. He served as Chairman and Partner of McGuireWoods LLP from 1990 to 2006. He is currently a director of Smithfield F... Full Bio

Ellen Richey
Chief Enterprise Risk Officer
Visa, Inc.

Ellen Richey joined Visa Inc. as chief enterprise risk officer in September 2007.

Prior to joining Visa, she most recently worked at Washington Mutual Inc. as senior vice president of enterprise risk management and executive vice president... Full Bio

Rick L. Burdick
Partner
Akin Gump Strauss Hauer & Feld LLP

Rick Burdick serves as managing partner, international, and chair of the international corporate transactions practice at Akin Gump Strauss Hauer & Feld LLP. He has held a number of positions in firm management, including... Full Bio

Liz Ricci
Director, Global Governance, Risk and Compliance
Procter & Gamble Company

Liz is a 30-year veteran at Procter & Gamble, and has held a variety of leadership positions in the Finance & Accounting organization – including operating roles in all business units as well as corporate roles in strategy and analys... Full Bio

James A. Rose
Chief Audit Executive
Humana, Inc.

James Rose is the Chief Audit Executive of Humana, a publicly traded health benefits company headquartered in Louisville, Ky. In addition to his CAE role, Mr. Rose helped establish and currently leads the organization's Enterprise Ris... Full Bio

Dr. Paul L. Walker, Ph.D., CPA
Associate Professor and Dir. of PWC Ctr.for Innovation in Professional Services
University of Virginia
McIntire School of Commerce

Dr. Paul L. Walker teaches at the University of Virginia. Dr. Walker co-developed one of the first courses on Enterprise Risk Management. He has taught ERM at the University of Virginia, to numerous executives groups and to boards. Dr. Walker has ... Full Bio

Michael Chagares (Moderator)
Senior Executive, Risk Management
Accenture, Inc.

Mr. Chagares is a Senior Executive in the enterprise risk consulting practice at Accenture. He has over 25 years of experience as a consultant and banker providing business risk services to numerous large companies in a variety of industries... Full Bio