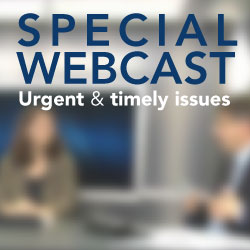 Special Webcast
The Dynamics of Waxman-Markey in the Senate this Fall: Will it Pass?
20 October, 2009 | (01 hr)
Debate in Congress on a U.S. climate change and energy bill is scheduled to resume this fall. This webcast will discuss the viability of the House's bill (ACES) and a possible legislative timeline in the context of other major legislative initiatives, such as health care reform and managing the financial crisis, and international climate change discussions. The range of special interests regarding the US's energy future, clean coal and renewables and how they will influence the debate will be discussed. Given the significance of this policy for all business, The Conference Board is presenting a webcast to prepare business managers and strategists for the transition to a low-carbon economy.
This webcast will discuss:
An overview of the House Waxman-Markey draft, the Senate version of the bill, and its potential economic impact
The demands of key special interest groups and their influence on the U.S.'s energy future
The pressure on the Obama Administration of the UN meeting in Copenhagen in December 2009
The future of clean coal, and expectations for renewable energy and clean technology
Speakers
Bruce H. Braine
Vice President, Strategic Policy Analysis
American Electric Power

Bruce H. Braine is vice president for strategic policy analysis for American Electric Power Service Corp. In this position, he focuses on analysis of federal and state energy and environmental policy as well as analysis and development of long-ter... Full Bio

Keith Cole
Director, Legislative & Regulatory Affairs
General Motors

Mr. Keith Cole is Director of Advanced Technology Vehicle Strategies and Legislative Affairs for General Motors. He focuses on GM's advanced vehicle technologies and their impact on environmental policies. From 1997 until 2002, he was a part... Full Bio

David Doniger
Policy Director, Climate Center
Senior Attorney
National Resource Defense Council (NRDC)

David Doniger is the policy director of NRDC's climate center, focusing on policies to cut global warming pollution from power plants, motor vehicles and other major industries. David also leads NRDC's work to complete the phase-out of chemicals t... Full Bio

Dinah A. Koehler, Sc.D. (Moderator)
Deloitte

Dinah Koehler, Sc.D. is research leader for sustainability and climate change at Deloitte Research – the research division of the Deloitte US firm. She earned her Doctor of Science degree in Environmental Science and Risk Management from Har... Full Bio