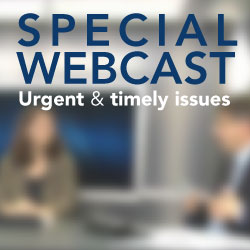 Special Webcast
Investing in Learning during Feast or Famine
27 October, 2009 | (01 hr)
Sign In to access this Webcast
Corporate learning and development play a crucial role in any organization's talent development strategy. Businesses that continue to invest in their learning and development budgets during economic slowdowns benefit from increased market share and profitability. Why? When the economy eventually improves, companies will have a stronger workforce from having made the investment in their human capital assets. Participants in this webcast will learn strategies to develop exceptional learning and development initiatives regardless of the economic climate. Panelist Trina Soske will share practical approaches to ensure that any organization gets the most value for the money from its portfolio of leadership activities. Likewise, Michelle Blieberg will present a case study of her learning operation at UBS through times of feast and famine.
This webcast will discuss:
Strategies to evaluate the cost/value positions of your existing leadership development activities
Methods to identify the talent and leadership needs of the business and design innovative programs
Ways to partner with internal divisions and external vendors to deliver learning at low or reduced cost
Strategies to develop programs that demonstrate a return on investment by using internal "consultants" to solve real business case situations.
Speakers
Michelle Blieberg
Senior Fellow, Human Capital
The Conference Board

Michelle Blieberg is a Senior Fellow, Human Capital at The Conference Board. In this role, Michelle supports the Human Capital Practice which includes The Conference Board Human Capital Exchange™, research, conferen... Full Bio

Trina L. Soske
Partner, Global Practice Lead
Oliver Wyman Leadership Development

Trina, a partner at Oliver Wyman Leadership Development, and global practice leader for the firm.

Trina has over 25 years of strategy-consulting and leadership development experience with companies ranging from start-ups to Fortune 50. Her... Full Bio

Jean McNulty (Moderator)
Program Director, The Conference Board Councils on Leadership Development, Talent Management and Corporate Learning
The Conference Board

For the past 20 years, Jean McNulty has played a leading role in The Conference Board's councils, conferences and research, particularly in the Learning, Leadership Development and Talent Management areas. In addition, Jean's been a key resource f... Full Bio