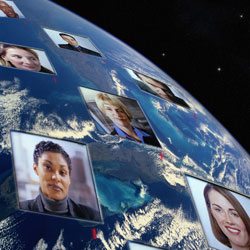 Conference KeyNotes
Designing a Global Organization in Turbulent Markets
We are pleased to introduce Conference KeyNotes, a new offer from The Conference Board, providing the benefits of our signature conferences without the travel cost. Conference KeyNotes includes a webcast with video presentations from selected speakers, live Q&A and a written summary of the conference, including benchmarking data and attendees' planned action steps.
07 February, 2013 | (01 hr)
Historically a decentralized and business-unit driven organization, in 2009 Cargill decided to create a new global corporate function to manage transportation and logistics. The new leader partnered with Organization Effectiveness to lead a global design team in building the business case, developing the new corporate function's strategy and value proposition, identifying core capabilities, and designing the organization and implementation plan. The team achieved major milestones on schedule, with the new organization launched in June 2011. Significant value has been delivered to the business during a time of global market volatility and turbulence. The presenters will review the process utilized, challenges in designing global, enterprise level organizations and unexpected lessons learned in implementing a global function that manages complex modes of transportation and logistics in 65 countries and over $4 B in spend.
Audience: This webcast is intended for executives from any function charged with leading or supporting organization design initiatives within their companies.
Speakers
Steve Nussbaum
Organization Effectiveness Consultant
Cargill Inc.

Steve brings 30 years of experience in line management, human resources and consulting as he partners with senior business leaders to implement strategic, innovative and cost-effective solutions to drive business growth and performance. ?He leads ... Full Bio

George Schember
Vice President, Logistics & Transportation
Cargill Inc.

George Schember serves as Vice President, Cargill Transportation & Logistics (CTL), with responsibilities for T&L activities across Cargill's four global regions and multiple modal groups—truck, rail, barge, container, warehous... Full Bio

Meg Gottemoeller (Moderator)
Executive Director of Member Engagement, Human Capital
The Conference Board

Meg Gottemoeller is responsible for bringing the entire range of expertise, research, and programs available from The Conference Board to serve the needs of its members. She oversees more than 40 major conferences and other meetings, 28 councils, ... Full Bio