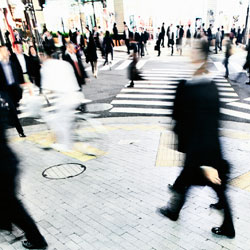 Human Capital Watch™
Human Capital Watch™: Leadership Skills for Turbulent Environments
The Conference Board Human Capital Watch™ is a complimentary webcast for member companies that helps senior human capital executives address challenges and stay informed about current issues across the entire spectrum of human capital. Each webcast offers concise, insightful research and insights as well as practitioner responses to human capital challenges in strategic workforce planning, workforce readiness, diversity & inclusion, talent management, strategic human resources, employee engagement, leadership development or human capital analytics.
Human Capital Watch™ webcasts are hosted by Dr. Rebecca Ray, Senior Vice President, Human Capital at The Conference Board.
Series Host
Rebecca L. Ray, Ph.D.
Senior Vice President, Human Capital, The Conference Board

Rebecca Ray is senior vice president, human capital at The Conference Board and the leader of the Human Capital Practice. Human capital research at The Conference Board focuses on human capital analytics, labor markets, workforce readiness, strate... Full Bio
Human Capital Watch™: Leadership Skills for Turbulent Environments
March 2013
20 March, 2013 | (01 hr)
To view the on demand recording of this webcast, your company must be a member of The Conference Board. Please sign in or create an account and you'll instantly be given access to all our member benefits, including this recording and our entire webcast archive.
The pace and disruptiveness of change is exacting a toll on organizations and their leaders, making sustained high performance an even greater challenge. Turbulence is the new normal and the search is on for the essential skills needed for leading effectively in such conditions. There is also the realization that those organizations which best master those skills can gain a competitive advantage when others fail in developing them. Human Capital professionals are quick to call for more "systems thinkers," with excellent change management skills, but many questions remain, such as:
What other capabilities and skills are also essential?
What do such capabilities operationally look like?
How can senior Human Capital leaders create initiatives that develop these essential skills within their own organizations?
Are there specific guidelines or design criteria for helping them do that?
Joseph McCann, Ph.D., Principal Researcher on Human Capital, The Conference Board, and an award-winning author for his own work on mastering turbulence, will explore these questions by leading a panel discussion which will draw upon more than 20 years of research and experience of two additional notable practitioners: author and accomplished senior consultant, Anna Tavis, Ph.D., Executive Editor of People & Strategy, and Mal O'Connor, Ph.D., Vice President and Principal at CFAR.
Speakers
Anna Tavis, Ph.D.
Executive Editor
People and Strategy Journal

Dr. Anna Tavis has pursued a Global Talent Management, Learning and OD career in business, academia, and consulting. She is the Executive Editor of People and Strategy Journal and is a Board member of the Human Resource Planning... Full Bio

Mal O'Connor, Ph.D.
Vice President and Principal
CFAR

Mal O'Connor is a Vice President and Principal at CFAR, a private management consulting firm specializing in strategy and organizational development. For over twenty years he has worked with business leaders to create sustainable soluti... Full Bio

Joseph E. McCann, Ph.D. (Moderator)
Distinguished Principal Fellow, Human Capital
The Conference Board

Joseph McCann is a Distinguished Principal Research Fellow at The Conference Board and an internationally acknowledged scholar, consultant, and author of many books and articles on leadership development, organization design and strategic change, ... Full Bio