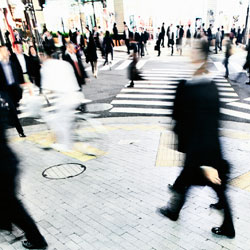 Human Capital Watch™
Human Capital Watch™: 2013 CEO Challenge Report & Economic Outlook
The Conference Board Human Capital Watch™ is a complimentary webcast for member companies that helps senior human capital executives address challenges and stay informed about current issues across the entire spectrum of human capital. Each webcast offers concise, insightful research and insights as well as practitioner responses to human capital challenges in strategic workforce planning, workforce readiness, diversity & inclusion, talent management, strategic human resources, employee engagement, leadership development or human capital analytics.
Human Capital Watch™ webcasts are hosted by Dr. Rebecca Ray, Senior Vice President, Human Capital at The Conference Board.
Series Host
Rebecca L. Ray, Ph.D.
Senior Vice President, Human Capital, The Conference Board

Rebecca Ray is senior vice president, human capital at The Conference Board and the leader of the Human Capital Practice. Human capital research at The Conference Board focuses on human capital analytics, labor markets, workforce readiness, strate... Full Bio
Human Capital Watch™: 2013 CEO Challenge Report & Economic Outlook
January 2013
16 January, 2013 | (01 hr)
To view the on demand recording of this webcast, your company must be a member of The Conference Board. Please sign in or create an account and you'll instantly be given access to all our member benefits, including this recording and our entire webcast archive.
The results of The Conference Board CEO Challenge® 2013 survey are in!
Since 1991, The Conference Board has asked CEOs for their perspectives on key business challenges and to discuss strategies companies undertake to address them. Rebecca Ray, Ph.D., Senior Vice President of Human Capital, The Conference Board, will share the top-line results and discuss the strategies CEOs have selected to address human capital challenges.
Knowing how CEOs view human capital issues is important, and knowing the economic scenario in which they will expect members of our profession to execute is just as important. Joining Rebecca will be Dr. Gad Levanon, Director of Macroeconomic Research, The Conference Board, and Bert Colijn, Labor Market Economist, The Conference Board, to discuss the world economic situation as they see it for the coming year.
Speakers
Gad Levanon, Ph.D.
Director of Macroeconomic Research
The Conference Board

Gad Levanon is director of macroeconomic research at The Conference Board, where he also leads the labor markets program. He also serves on The Demand Institute™ leadership team.

Levanon created ... Full Bio

Bert Colijn
Labor Market Economist, Europe
The Conference Board

Bert Colijn is a labor market economist that focuses on the European market. He works on the European Commission FP7 project NEUJOBS, focusing on productivity and economic growth in Europe in 2025. Besides this, he works on developing European ind... Full Bio