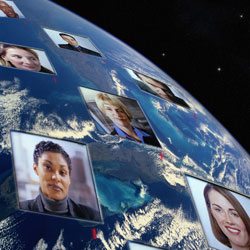 Conference KeyNotes
Inspiring Employees, Inspiring the World
We are pleased to introduce Conference KeyNotes, a new offer from The Conference Board, providing the benefits of our signature conferences without the travel cost. Conference KeyNotes includes a webcast with video presentations from selected speakers, live Q&A and a written summary of the conference, including benchmarking data and attendees' planned action steps.
31 October, 2012 | (01 hr)
Social media is helping to deliver two global collaborative initiatives – Dell's Make a Difference employee engagement community and the Dell Social Innovation Challenge. Learn how these programs utilize social media to create broader connections.
Audience: This webcast should be of interest to corporate leaders, practitioners and thought-leaders focused on business and social impact, corporate contributions, corporate foundations, community relations, community involvement programs, corporate citizenship, employee engagement, volunteer efforts, sustainability, corporate social responsibility, stakeholder and non-profit partnerships, public affairs, and corporate communications.
Speakers
Deborah Bauer
Director, Dell Giving
Dell, Inc.

Deb Bauer, Director, Dell Strategic Giving and Community Engagement, is responsible for the company's global charitable initiatives. This includes corporate giving programs in the areas of learning, social entrepreneurship, support for pedia... Full Bio

Matthew Combs
Founder
YourCause

Founder and CEO of YourCause, LLC. Matthew has been involved in start-ups since graduating from Cornell in 1999. Either building technology based business for others, or acting upon his own ideas, he has spent more than a decade turning concept in... Full Bio

Thomas Singer (Moderator)
Researcher, Corporate Leadership
The Conference Board

Thomas Singer is a researcher in corporate leadership at The Conference Board. His research focuses on corporate social responsibility and sustainability issues. In addition to his work at The Conference Board, Singer serves as an independent cons... Full Bio