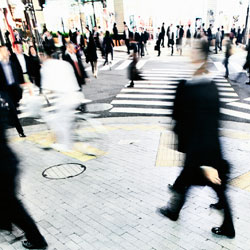 Human Capital Watch™
Human Capital Watch™: European Labor Market Challenges
The Conference Board Human Capital Watch™ is a complimentary webcast for member companies that helps senior human capital executives address challenges and stay informed about current issues across the entire spectrum of human capital. Each webcast offers concise, insightful research and insights as well as practitioner responses to human capital challenges in strategic workforce planning, workforce readiness, diversity & inclusion, talent management, strategic human resources, employee engagement, leadership development or human capital analytics.
Human Capital Watch™ webcasts are hosted by Dr. Rebecca Ray, Senior Vice President, Human Capital at The Conference Board.
Series Host
Rebecca L. Ray, Ph.D.
Senior Vice President, Human Capital, The Conference Board

Rebecca Ray is senior vice president, human capital at The Conference Board and the leader of the Human Capital Practice. Human capital research at The Conference Board focuses on human capital analytics, labor markets, workforce readiness, strate... Full Bio
Human Capital Watch™: European Labor Market Challenges
December 2012
12 December, 2012 | (01 hr)
European Labor Market Challenges: Quality and Sustainability at Work in Times of the Crisis
To view the on demand recording of this webcast, your company must be a member of The Conference Board. Please sign in or create an account and you'll instantly be given access to all our member benefits, including this recording and our entire webcast archive.
What are the major challenges facing European labor markets? How does the current crisis impact these challenges, and what are the consequences for HR leaders? European Labor Markets are filled with numerous complexities: the Euro-crisis and other long-term challenges, such as transitions in energy systems toward a green and more sustainable economy, the demographic challenge, and considerable difficulties in education and skills development. Over the past five years, this economic crisis has led to even more negative consequences on the European job market, resulting in record unemployment in some countries, with unemployment rates around 25 percent in Greece and Spain. The crisis is especially harsh on Europe's young, as unemployment is exceptionally high for Europeans under 25 years of age. The private sector seems reluctant to hire in these uncertain times, and the public sector is undergoing severe budget cuts. All in all, Europe is suffering an employment crisis more desperate than the one currently experienced in the United States.
Though these frightening challenges are present throughout many European countries, other European countries are still performing relatively well, even with certain professions suffering skill shortages. In this highly diverse and fragile environment, a major question has emerged about whether the quantity of available jobs should be the only focus? In a world where issues regarding qualifications and skills are becoming increasingly important (and with a swiftly ageing European population), along with rapid technology changes and a quest to create a more sustainable economy, the question remains how do we manage all of these requirements to build higher quality jobs?
In this webcast, Rebecca Ray, Senior Vice President of Human Capital, The Conference Board will host a panel discussion with Bert Colijn, Labor Market Economist, The Conference Board, and Christoph Hilbert, Director of Human Capital Research in Europe, The Conference Board, as they discuss the relevance of job quality in Europe, and examine how the 'green' sector could provide a path to creating a large number of high-quality jobs.
Speakers
Bert Colijn
Labor Market Economist, Europe
The Conference Board

Bert Colijn is a labor market economist that focuses on the European market. He works on the European Commission FP7 project NEUJOBS, focusing on productivity and economic growth in Europe in 2025. Besides this, he works on developing European ind... Full Bio

Christoph Hilbert, Ph.D.
Director, Human Capital Research, Europe
The Conference Board

Christoph Hilbert is Director Human Capital Research Europe at The Conference Board. Christoph is planning, designing and managing distinctive research in the field of labor, education & training, talent and human resource for ... Full Bio