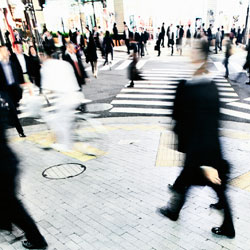 Human Capital Watch™
Human Capital Watch™: The State of Human Capital
The Conference Board Human Capital Watch™ is a complimentary webcast for member companies that helps senior human capital executives address challenges and stay informed about current issues across the entire spectrum of human capital. Each webcast offers concise, insightful research and insights as well as practitioner responses to human capital challenges in strategic workforce planning, workforce readiness, diversity & inclusion, talent management, strategic human resources, employee engagement, leadership development or human capital analytics.
Human Capital Watch™ webcasts are hosted by Dr. Rebecca Ray, Senior Vice President, Human Capital at The Conference Board.
Series Host
Rebecca L. Ray, Ph.D.
Senior Vice President, Human Capital, The Conference Board

Rebecca Ray is senior vice president, human capital at The Conference Board and the leader of the Human Capital Practice. Human capital research at The Conference Board focuses on human capital analytics, labor markets, workforce readiness, strate... Full Bio
Human Capital Watch™: The State of Human Capital
October 2012
17 October, 2012 | (01 hr)
To view the on demand recording of this webcast, your company must be a member of The Conference Board. Please sign in or create an account and you'll instantly be given access to all our member benefits, including this recording and our entire webcast archive.
In partnership with McKinsey & Company, The Conference Board has just completed a comprehensive research report which articulates the current state of human capital, the major challenges as expressed by human capital executives around the world, and how to address these challenges. The State of Human Capital Report reflects the survey responses and focus group comments of more than seven hundred human capital practitioners around the world. It offers both short- and long-term strategies that address the top four opportunities identified by human capital executives: anticipating the workplace of the future, securing the pipeline of skilled workers, capitalizing on employee engagement, and ensuring an agile workforce.

Join Rebecca L. Ray, Ph.D., Senior Vice President of Human Capital, The Conference Board, as she moderates a panel discussion with the report's researchers who will focus on the key findings from The State of Human Capital report. Joining Rebecca will be Amy Abel, Ph.D., Director of Human Capital Research, The Conference Board; Emily Lawson, Partner in the London Office, McKinsey & Company and Leader of McKinsey's global Human Capital practice; and Bryan Hancock, Partner in the Atlanta office, McKinsey & Company.

This session will offer new insights for Human Capital professionals interested in knowing how to leverage these research findings to drive better business performance.
Speakers
Amy Lui Abel, Ph.D.
Director, Human Capital Research
The Conference Board

Amy Lui Abel is the director of human capital research at The Conference Board. She leads research efforts focusing on human capital analytics, labor markets, workforce readiness, strategic workforce planning, talent management, diversity and incl... Full Bio

Bryan Hancock
Partner, Atlanta Office
McKinsey and Company

Bryan Hancock is a partner in the Atlanta office of McKinsey and Company. Hancock is a leader of the firm's service on human capital management. Currently, he serves clients in retail, airlines, manufacturing, healthcare, the public and soci... Full Bio

Emily Lawson, Ph.D.
Partner, London Office
McKinsey and Company

Emily Lawson, PhD, is a partner in the London office of McKinsey and Company. Lawson is a leader of the firm's service on human capital management. She serves clients across a range of industries, including pharmaceuticals, telecommunications, fin... Full Bio