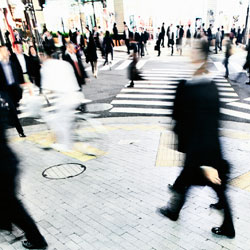 Human Capital Watch™
Human Capital Watch™: The CHRO & the Board
The Conference Board Human Capital Watch™ is a complimentary webcast for member companies that helps senior human capital executives address challenges and stay informed about current issues across the entire spectrum of human capital. Each webcast offers concise, insightful research and insights as well as practitioner responses to human capital challenges in strategic workforce planning, workforce readiness, diversity & inclusion, talent management, strategic human resources, employee engagement, leadership development or human capital analytics.
Human Capital Watch™ webcasts are hosted by Dr. Rebecca Ray, Senior Vice President, Human Capital at The Conference Board.
Series Host
Rebecca L. Ray, Ph.D.
Senior Vice President, Human Capital, The Conference Board

Rebecca Ray is senior vice president, human capital at The Conference Board and the leader of the Human Capital Practice. Human capital research at The Conference Board focuses on human capital analytics, labor markets, workforce readiness, strate... Full Bio
Human Capital Watch™: The CHRO & the Board
September 2012
19 September, 2012 | (01 hr)
The CHRO & The Board
To view the on demand recording of this webcast, your company must be a member of The Conference Board. Please sign in or create an account and you'll instantly be given access to all our member benefits, including this recording and our entire webcast archive.
CEOs clearly think human capital challenges are significant; around the globe, human capital was the top challenge after innovation, according to respondents in our 2012 CEO Challenge Report. And corporate boards are clearly interested in having human capital risk moving out of the shadows and into larger discussions regarding enterprise-wide risk, a key finding in our 2011 research report, Managing Human Capital Risk, with heightened calls for CHRO engagement at the board level. Legitimate questions remain about board-level progress surrounding Human Capital issues and strategies. How well are CHROs doing at engaging at the board level? Practice results remain very mixed, judging by reviews from many board governance processes. This web cast will explore research as well as the ways boards are designing structures, processes, and HR representation to address strategic HC issues. This web cast will also review some of the vital questions that every board member needs to consider to assure successful Senior HR leadership management.
Join Rebecca L. Ray, Ph.D., Senior Vice President, Human Capital, The Conference Board, for our next Human Capital Watch web cast, as she moderates a panel discussion with Dan Kaplan, Managing Director, Global Human Resources Practice, CTPartners; Toni Riccardi, Chief Human Resources Officer, The Conference Board; and Joseph McCann, Ph.D.; Principal Researcher, Human Capital at The Conference Board.
Speakers
Toni Riccardi
Chief Diversity Officer
The Conference Board

Toni L. Riccardi is the chief diversity officer for The Conference Board. She also serves as the subject matter expert for the external diversity content and programs of The Conference Board.

Previously, Riccardi was a principal with the g... Full Bio

Joseph E. McCann, Ph.D.
Principal Researcher, Human Capital
The Conference Board

Joseph McCann is a principal researcher in Human Capital at The Conference Board and an internationally acknowledged scholar, consultant, and author of many books and articles on leadership development, organization design and strategic change, kn... Full Bio

Dan Kaplan
Managing Partner, Global Head of Human Resources Practice
CTPartners

Dan is a Managing Partner with CTPartners, a premier executive search firm committed to performance, quality and results. Dan leads the firm's Global Human Resources Practice and advises Boards and CEOs on assessing and acquiring world class... Full Bio