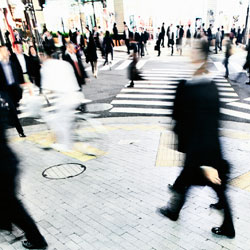 Human Capital Watch™
Human Capital Watch™: Expanding Human and Business Potential
The Conference Board Human Capital Watch™ is a complimentary webcast for member companies that helps senior human capital executives address challenges and stay informed about current issues across the entire spectrum of human capital. Each webcast offers concise, insightful research and insights as well as practitioner responses to human capital challenges in strategic workforce planning, workforce readiness, diversity & inclusion, talent management, strategic human resources, employee engagement, leadership development or human capital analytics.
Human Capital Watch™ webcasts are hosted by Dr. Rebecca Ray, Senior Vice President, Human Capital at The Conference Board.
Series Host
Rebecca L. Ray, Ph.D.
Senior Vice President, Human Capital, The Conference Board

Rebecca Ray is senior vice president, human capital at The Conference Board and the leader of the Human Capital Practice. Human capital research at The Conference Board focuses on human capital analytics, labor markets, workforce readiness, strate... Full Bio
Human Capital Watch™: Expanding Human and Business Potential
14 March, 2012 | (01 hr)
Expanding Human and Business Potential: Today's External and Internal Executive Coaching Practices
To view the on demand recording of this webcast, your company must be a member of The Conference Board. Please sign in or create an account and you'll instantly be given access to all our member benefits, including this recording and our entire webcast archive.
Trends show that companies are increasing their use of coaching to support employee and leadership development. In this HC Watch, we will discuss the latest results from The Conference Board's 2012 Executive Coaching Study, with a closer look at external and internal coaching practices. Additionally, lessons learned will be shared by executives from Pepsi and Prudential Financial on how coaching is used and implemented within their firms.
Speakers
Lee WanVeer
Vice-President of The Learning Organization
Prudential Financial

Lee WanVeer is a Vice-President of The Talent Organization for Prudential Financial, and is responsible for Enterprise Management - Leadership Development and Executive Coaching. Lee has also provided OD consulting for many business un... Full Bio

Erica Desrosiers, Ph.D.
Senior Director, Global Talent Development
PepsiCo, Inc.

Erica Desrosiers, Ph.D. is Senior Director, Global Talent Development, for PepsiCo. Erica's primary focus is executive talent development and coaching, and she leads the organization's 360-degree feedback and upward fe... Full Bio

Amy Lui Abel, Ph.D. (Moderator)
Director, Human Capital Research
The Conference Board

Amy Lui Abel is the director of human capital research at The Conference Board. She leads research efforts focusing on human capital analytics, labor markets, workforce readiness, strategic workforce planning, talent management, diversity and incl... Full Bio