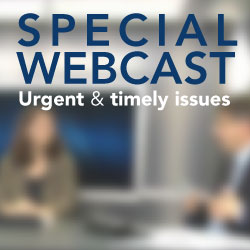 Special Webcast
Governance Watch
19 July, 2011 | (01 hr)
NOTICE:
An audio MP3 is available for your convenience
Governance Watch is a new program from The Conference Board that helps senior legal and compliance professionals keep abreast of developments in corporate governance. It offers summaries and concise perspectives on developments affecting corporate governance. It focuses on issues that would be of interest to directors and senior business and finance executives, including issues affecting corporate democracy, shareholder communications and relationships, fiduciary obligations of directors, disclosure, compensation and insider trading.

It is hosted by Alan Rudnick, Program Chair ,The Conference Board Directors' Institute. Panelists on our upcoming webcast will be Alan Beller, partner at Cleary Gottlieb Steen & Hamilton LLP and former Director of the SEC's Division of Corporation Finance, Nicolas Grabar, partner at Cleary Gottlieb Steen & Hamilton LLP and co-chair of its corporate governance practice.

The agenda will include discussion of shareholder communications, including an update on proxy access, Dodd-Frank Act developments and accounting developments concerning IFRS and contingency reporting.
Speakers
Peter C. Browning
Lead Director
Nucor Corporation

Peter Browning, founder and Managing Director of Peter Browning & Associates, LLC, a board advisory service, has a wide range of experience in business. Beginning as a sales trainee, he spent 24 years with the Continental Can Company, includin... Full Bio

Alan L. Beller
Partner
Cleary Gottlieb Steen & Hamilton LLP

Mr. Beller's practice focuses on a wide variety of complex securities, corporate governance and corporate matters. Mr. Beller advises regularly senior officials of both U.S. and non-U.S. entities on these subjects, including in connection wi... Full Bio

Nicolas Grabar
Partner
Cleary Gottlieb Steen & Hamilton LLP

Mr. Grabar's practice focuses on international capital markets and securities regulation and on the representation of large reporting companies. He plays a primary role in the firm's work for clients including leading Mexican and Brazi... Full Bio

Alan Rudnick (Moderator)
Senior Fellow, Corporate Governance
The Conference Board

Alan Rudnick is a senior fellow with The Conference Board Governance Center. Rudnick has extensive experience as a former general counsel and corporate secretary, and a former assistant state attorney general. He has held positions in f... Full Bio