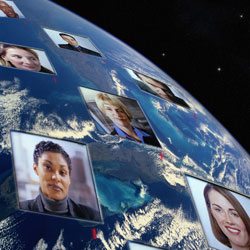 Conference KeyNotes
Human Capital Metrics to Manage Risk and Quantify ROI
We are pleased to introduce Conference KeyNotes, a new offer from The Conference Board, providing the benefits of our signature conferences without the travel cost. Conference KeyNotes includes a webcast with video presentations from selected speakers, live Q&A and a written summary of the conference, including benchmarking data and attendees' planned action steps.
10 February, 2011 | (01 hr)
This Conference KeyNotes Webcast will include video clips and live discussion of two sessions delivered at The 2010 Human Capital Metrics Conference. Senior executives will discuss human capital analytics as a tool that can be leveraged to:
Better Manage Risk
Quantify Workforce Decisions with ROI
Participants will have the opportunity to pose questions to the speakers.
Who Should Attend:
Executives responsible for human resources, talent management, workforce planning, workforce analytics, human capital analytics.
Speakers
Ken Carrig
(Former) Executive Vice President of Human Resources
Comcast

Mr. Carrig is executive vice president of human resources for Comcast Cable where he is responsible for all people-related functions including: Comcast University, Compensation and Benefits, Diversity, Employee Relations, Labor Relations, HR Commu... Full Bio

Jeff Higgins
Chief Executive Officer
Human Capital Management Institute

Mr. Higgins is the chief executive officer of the Human Capital Management Institute, a driving force in Workforce analytics at leading companies who transform workforce data into a source of value creation via planning and predictive mo... Full Bio

Mayank Gupta
Executive Director, Organization Analytics
Comcast

Mr. Gupta is Executive Director Organizational Analytics and Performance Management at Comcast Cable. In his role Mr. Gupta is responsible for bring analytical rigor to large human capital initiatives at Comcast Cable. Mr. Gupta uses internal and ... Full Bio