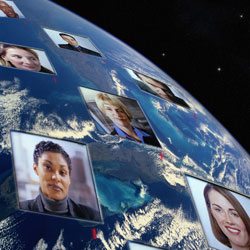 Conference KeyNotes
Corporate Communications and Web 2.0
We are pleased to introduce Conference KeyNotes, a new offer from The Conference Board, providing the benefits of our signature conferences without the travel cost. Conference KeyNotes includes a webcast with video presentations from selected speakers, live Q&A and a written summary of the conference, including benchmarking data and attendees' planned action steps.
30 June, 2010 | (01 hr)
This Conference KeyNotes Webcast will provide highlights of The 2010 Corporate Communication and Web 2.0 Conference (May, 2010). Video footage of the Conference will set context for live questions and answers with the presenters.
This webcast will feature highlights from:
New Approaches, New Techniques: Redefining Your Business in a Web 2.0 World
Who Should Attend:
Executives with responsibilities in Corporate Communications, Internal Communications, Public Relations, Social Media, New Media, and Marketing.
Pre-Qualifications to attend the webcast:
No prior knowledge is needed to participate.
Speakers
Pete Blackshaw
Executive Vice President, Strategic Services
Nielsen

Pete Blackshaw is a recognized expert in interactive marketing, word of mouth, and consumer understanding. He brings a broad range of experience to his role as Executive Vice President of Strategic Services for NM Incite, including public policy, ... Full Bio

Bill White
Senior Vice President, Corporate Communications & Corporate Social Responsibility
Sprint

Bill White is senior vice president of corporate communications and corporate responsibility for Sprint Nextel. In this role, he oversees all corporate communications and corporate responsibility initiatives, including executive and internal commu... Full Bio

Meg Gottemoeller (Moderator)
Executive Director of Member Engagement, Human Capital
The Conference Board

Meg Gottemoeller is responsible for bringing the entire range of expertise, research, and programs available from The Conference Board to serve the needs of its members. She oversees more than 40 major conferences and other meetings, 28 councils, ... Full Bio