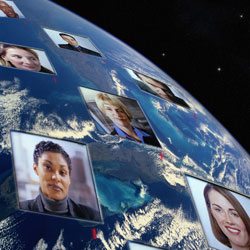 Conference KeyNotes
Women's Leadership Design
We are pleased to introduce Conference KeyNotes, a new offer from The Conference Board, providing the benefits of our signature conferences without the travel cost. Conference KeyNotes includes a webcast with video presentations from selected speakers, live Q&A and a written summary of the conference, including benchmarking data and attendees' planned action steps.
30 June, 2010 | (01 hr)
This Conference KeyNotes Webcast will provide highlights of The 2010 Women's Leadership Design Conference (April, 2010). Video footage of the conference will set context for live questions and answers with the presenter.
This webcast will feature highlights from:
Create Your Own Rules and Play by Them
Who Should Attend:
Executives with responsibilities in Leadership Development, Talent Management, Diversity and Work Life.
Pre-Qualifications to attend the webcast:
No prior knowledge is needed to participate.
Speakers
Gail Evans
Former EVP
CNN

Love the Game…With those words Gail Evans concludes one of the most successful and influential books about women in the workplace.

Ironically, many women did not even know the game existed before Evans taught them how to win in ... Full Bio

Meg Gottemoeller
Executive Director of Member Engagement, Human Capital
The Conference Board

Meg Gottemoeller is responsible for bringing the entire range of expertise, research, and programs available from The Conference Board to serve the needs of its members. She oversees more than 40 major conferences and other meetings, 28 councils, ... Full Bio