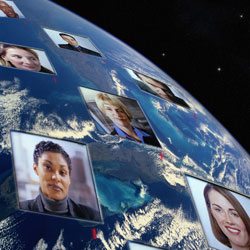 Conference KeyNotes
Social Media Meet-up
We are pleased to introduce Conference KeyNotes, a new offer from The Conference Board, providing the benefits of our signature conferences without the travel cost. Conference KeyNotes includes a webcast with video presentations from selected speakers, live Q&A and a written summary of the conference, including benchmarking data and attendees' planned action steps.
08 June, 2010 | (01 hr)
This Conference KeyNotes Webcast provided highlights of The 2010 Social Media Meet-up (April, 2010). Video footage of two headline presentations will set context for live questions and answers with the presenters.
This webcast featured highlights from:
The Relationship Revolution
Secrets of Social Analytics and Measurement
Speakers
Christopher Frank
Vice President, Global Marketplace Insights
American Express

Chris is a Vice President in the Global Marketplace Insights group, where he is responsible for advertising, brand, and business-to-business research. Taking the pulse of an iconic brand in today's viral world sparks some interesting challen... Full Bio

Greg Matthews
Director of Social Media
WCG

Greg Matthews has spent his career helping to build, grow and transform businesses. Today, that's all about using social media - the power of collaboration and community - to change the way businesses work. Every business has its own set of unique... Full Bio

Lois Kelly (Moderator)
Partner
Beeline Labs

Lois Kelly, a partner in Beeline Labs, consults, teaches and speaks about how to achieve business goals faster by humanizing business and adopting Web 2.0 s... Full Bio