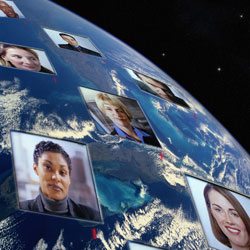 Conference KeyNotes
Learning in a Social World
We are pleased to introduce Conference KeyNotes, a new offer from The Conference Board, providing the benefits of our signature conferences without the travel cost. Conference KeyNotes includes a webcast with video presentations from selected speakers, live Q&A and a written summary of the conference, including benchmarking data and attendees' planned action steps.
30 November, 2012 | (01 hr)
Global mobile workforces demand continuous learning and collaborating, yet many corporate learning & development functions still rely on traditional learning approaches and centralized control of content. What are forward thinking multinationals doing now to prepare themselves for the future? How are organizations leveraging social learning and collaboration to grow and sustain a culture of lifelong learning and achieve new levels of performance? What are the best ways to integrate social learning into corporate learning and training & development programs? This session will share leading edge practices, insights and lessons learned from researching, adopting and implementing social learning to increase business performance through capability development of an organization's most valuable assets, their people.
Audience: Join other senior HR executives responsible for talent, recruiting, knowledge management, employee engagement and learning and communication executives responsible for employer branding, internal communication and social media.
Speakers
Kent Greenes
Program Director, Knowledge and Collaboration Council
The Conference Board

Kent A. Greenes is a program director for The Conference Board Knowledge and Collaboration Council. His publications for The Conference Board include two research reports, It's Not Just Your Children's Facebook Anymore: Using ... Full Bio

Thomas Barfield
Director of Social Learning & Knowledge Sharing, Growth & Strategy
Accenture

Tom Barfield is the Director for Social Learning for Accenture. Over the last ten years he has led as initiatives to create processes and technologies to improve the performance of Accenture's 240,000 people. He has championed the integratio... Full Bio