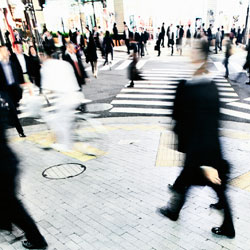 Human Capital Watch™
Human Capital Watch™: Human Capital Issues in India
The Conference Board Human Capital Watch™ is a complimentary webcast for member companies that helps senior human capital executives address challenges and stay informed about current issues across the entire spectrum of human capital. Each webcast offers concise, insightful research and insights as well as practitioner responses to human capital challenges in strategic workforce planning, workforce readiness, diversity & inclusion, talent management, strategic human resources, employee engagement, leadership development or human capital analytics.
Human Capital Watch™ webcasts are hosted by Dr. Rebecca Ray, Senior Vice President, Human Capital at The Conference Board.
Series Host
Rebecca L. Ray, Ph.D.
Senior Vice President, Human Capital, The Conference Board

Rebecca Ray is senior vice president, human capital at The Conference Board and the leader of the Human Capital Practice. Human capital research at The Conference Board focuses on human capital analytics, labor markets, workforce readiness, strate... Full Bio
Human Capital Watch™: Human Capital Issues in India
November 2012
14 November, 2012 | (01 hr)
To view the on demand recording of this webcast, your company must be a member of The Conference Board. Please sign in or create an account and you'll instantly be given access to all our member benefits, including this recording and our entire webcast archive.
Join us for our November Human Capital Watch webcast, focusing on leadership development and other human capital issues in India. Many Indian organizations have transformed the way they are developing their leaders to keep pace with an average GDP growth rate of 8%. This webcast will share some new research report findings recently released by The Conference Board, focusing on how Indian organizations are developing better leaders faster.
Rebecca L. Ray, Ph.D., Senior Vice President of Human Capital, The Conference Board, will moderate this discussion, which will include guest panelists, Richard Wellins, Ph.D., Senior Vice President, Development Dimensions International (DDI) and Abhijit Bhaduri, Wipro's Chief Learning Office and author of the book, Do Not Hire the Best. During this webcast, participants will compare India's leadership development practices with those of other global organizations and share approaches and insights from several leading Indian organizations, such as Wipro.
This session will offer insights for Human Capital professionals working in multinational corporations who are doing business in India, as well as any HR professional wishing to accelerate their own leadership development initiatives.
For additional information on this topic, The Conference Board is pleased to present its first Leadership Development Conference in India on January 23-24, with a pre-conference session on January 22, 2013. This conference is a must attend for those involved in building a strategy to accelerate leadership development within their organizations. For further information please visit our website at www.conference-board.org/leadershipindia_us.
Speakers
Richard Wellins
Senior Vice President
Development Dimensions International

Rich is a Senior Vice President for Development Dimensions International (DDI). His major responsibilities include developing and executing DDI's global marketing strategy, leading DDI's Center for Applied Behavioral Research (CABER), and launchin... Full Bio

Abhijit Bhaduri
Chief Learning Officer
Wipro Group

Abhijit Bhaduri works as the Chief Learning Officer for the Wipro Group. Prior to this role, h... Full Bio