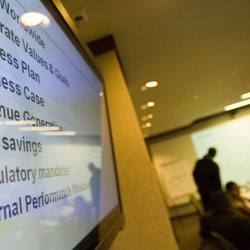 Strategy and Leadership
Experiential learning, forums, and research designed specifically for the C-suite and executive level of management and their teams.
Highlights
21 May, 2013 (New York, NY)
How to Use External Labor Market Data to Make Better Strategic Decisions
April 2013 | Research Report
An analysis of succession events of chief executive officers (CEOs) of S&P 500 companies in 2012.
14 June, 2013 | Special Webcast
In this session, NWNA Chairman and former CEO Kim Jeffery will discuss his work to drive a long-term solution to recycling in the United States through Extended Producer Responsibility (EPR)
Products & Services
Conferences/Events
Publications
Up in the Air: How some companies manage to defy gravity

April 2013 | The Conference Board Review

The authors draw on the results of a major study to identify and explain the key factors that generate long-term corporate success.
Workspace: Face-to-Face Fallacies

April 2013 | The Conference Board Review

Columnist Alison Maitland looks critically at workplace strategies of Google and Yahoo!, calling them "retrograde attitudes from Internet giants."
Webcasts
Trust in Business

08 May, 2013 | Special Webcast

Trust in business after the Financial Crisis of 2007/08 is again a challenge for the business community. On this webcast, Jon Spector, president and CEO of The Conference Board will discuss the challenges and solutions with two though leaders in the area.
Reinventing Recycling with Extended Producer Responsibility

14 June, 2013 | Special Webcast

In this session, NWNA Chairman and former CEO Kim Jeffery will discuss his work to drive a long-term solution to recycling in the United States through Extended Producer Responsibility (EPR)