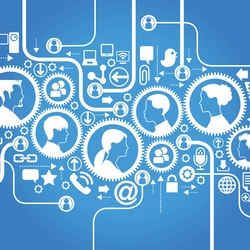 Social Media for HR Executives Seminars
25 - 26 June, 2013
The Conference Board Conference Center
New York, NY
25 June, 2013 — Workshop I: The Right Social Strategy for Your Organization
(Click to display details below)

26 June, 2013 — Workshop II: The Role of HR in the Social Workplace
(Details are being shown below)

26 June, 2013
Follow this conference on Twitter: #sm4hr | Follow The Conference Board: @conferenceboard
Facebook is now nine years old. While social media has been embedded into everyday life across the globe, corporations are still navigating this dynamic medium. Many leading companies have found the "secret sauce" – strategies designed to leverage social networks and achieve corporate goals. But, in order to really take advantage of all that social has to offer, companies must be prepared to embrace the true nature of social exchanges – transparency, opinions, flattening of hierarchies and some disruption. Companies that are on a path to adoption have seen real results and are also focused on demonstrating value of the social efforts.
This two part seminar series will give senior HR and communication executives' insights on how leading organizations are leveraging social networks. The first day will focus on social media and the organization and will cover innovation, collaboration, learning, employer branding and engagement. The second day will cover HR and transforming the organization through social networks, talent, recruiting, rewards, and measuring ROI of social initiatives.
What you will learn
Leveraging social networks to benefit the entire organization
Implementing and managing social networks to spur innovation and knowledge sharing
Using social media to increase employee engagement and bolster employer branding
Who should attend
Senior HR executives responsible for talent, recruiting, knowledge management, employee engagement and learning and communication executives responsible for employer branding, internal communication and social media.
CONFERENCE PROGRAM ADVISORY BOARD
Ben Brooks, former Vice President, Human Capital Performance, Marsh
Courtney Shelton Hunt, PhD, Founder, The Denovait Group
Kent Greenes, Program Director, The Conference Board
Elizabeth Lupfer, Senior Manager, Employee Experience and HR Technology, Global HR, Verizon and Founder and Chief Blogger, The Social Workplace
Jennifer McClure, President, Unbridled Talent
Trish McFarlane, Director, Human Resources, Perficient; Co-Founder at HRevolution
Steve Boese, Creator and Host at HR Happy Hour; Instructor at Rochester Institute of Technology
Wednesday, June 26, 2013
The Role of HR in the Social Workplace
REGISTRATION AND CONTINENTAL BREAKFAST 8:30–9 AM
A 9–10 AM
Social Media, HR and Transforming the Organization
Courtney Hunt, Founder and Principal, The Denovati Group
Erin Arcario, Associate Director, HR Communications and Social Media, Boehringer-Ingelheim
NETWORKING REFRESHMENT BREAK 10–10:20 AM
B 10:20–11 AM
Maximizing Social Channels for Talent Management
Jennifer McClure, President, Unbridled Talent
C 11 AM–12:30 PM
Working Groups: Talent and Recruiting
Christine Hess, Program Director, The Conference Board
NETWORKING LUNCHEON 12:30–1:30 PM
D 1:30–2:30 PM
The Impact of Social Media: Measuring ROI
NETWORKING REFRESHMENT BREAK 2:30–2:45 PM
E 2:45–3:30 PM
Social Media in the Workplace: Managing Risks
F 3:30–4:30 PM
The Workplace of the Future and the Influence of Social
Louis Richardson, Evangelist and Storyteller, Social Business and Smarter Workforce, IBM
CONCLUSIONS 4:30–5 PM
For speaking and sponsorship opportunities, please contact Meg Gottemoeller at meg.gottemoeller@conferenceboard.org.