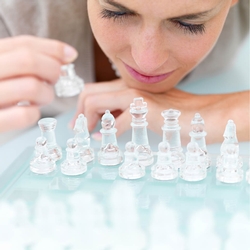 Women's Leadership Conference
Accelerating Positive Change for Women
14 - 15 May, 2013
New York Marriott Downtown
New York, NY
14 - 15 May, 2013 — Women's Leadership Conference
(Click to display details below)

13 May, 2013 — Pre-Conference Seminar: Moving Beyond the Myth of "Work-Life Balance"
(Details are being shown below)

13 May, 2013
REGISTRATION AND CONTINENTAL BREAKFAST 8–9 AM
Moving Beyond the Myth of "Work-Life Balance:" Focus on Your Priorities, On and Off the Job, Every Day and Throughout Your Career – and Find your Perfect Work-Life "Fit"
WORKSHOP 9 AM–3 PM
When Anne Marie Slaughter, Sheryl Sandberg and Marissa Mayer can make headlines in The New York Times and The Atlantic for their work-life choices and beliefs, it's clear women leaders face greater scrutiny, fairly or not, for how we manage our priorities on and off the job. In that context, how can we redefine our notions of the elusive "balance," to find a personal fit between work and life that meets our individual interests and goals, and the needs of our jobs? This workshop will address questions such as:
How can I find time to care for myself and my loved ones, while continuing to nurture my professional "brand" and project executive presence?
How can I do "extra's," like network and build a sponsor relationship when I need to get my work done so I can be home in time to relieve the babysitter or care for my aging parents?
The answer is not to deny that the challenge exists, but to take control every day and at major life transitions. In this interactive, hands on workshop, you'll learn time tested and practical, commonsense skills to find a work-life strategy that fits you and your job. Plus, we'll spend time on how to begin to build the work and career flexibility we all need into a critical part of your organization's business strategy.
Called "one of the smartest, sophisticated thinkers" by the New York Times and one of Mashable's Top 14 Career Experts on Twitter, Cali Williams Yost has been a pioneering expert on managing work and life in the new economy for nearly two decades. Cali has shown hundreds of organizations like BDO USA, Novo Nordisk and the United Nations, and tens of thousands of individuals how to partner for award-winning flexible work success.
Cali Williams Yost, Chief Executive Officer of the Flex+Strategy Group/Work+Life Fit, Inc., and Author, Work+Life: Finding the Fit That's Right for You and Tweak It: Make What Matters to You Happen Every Day