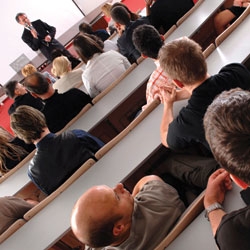 Onboarding Leadership Conference
Facilitating Transition, Driving Performance and Engagement
05 - 06 December, 2012
InterContinental New York Barclay
New York, NY
05 - 06 December, 2012 — Onboarding Leadership Conference


04 December, 2012 — Pre-Conference Seminar: Onboarding Architecture


Post-Conference Workshops:

Managing Employee Transitions through Turbulent Times
December 6, 2012



REGISTRATION AND LUNCHEON 12:30–1:30 PM

WORKSHOP 1:30–5:30 PM
Managing Employee Transitions through Turbulent Times
Employees and the organizations require new capabilities to manage turbulent transitions and remain competitive. The workshop will present case studies designed to demonstrate approaches to managing people centric transition. We will address strategic initiatives and demonstrate how to improve an organizations' ability to manage and the employee's capacity to navigate new work requirements.
Session A: "Onboarding an Acquisition: Enabling Successful Integration"
A leading consumer travel company's use of its recognition platform as a key enabler of its post-merger integration emphasizes new skills development, behaviors for a new firm and continued excellence in customer service.

Stephanie Merchiore, Director, Employee Recognition, Delta Airlines, Inc.
Session B: "Building a Competitive Advantage at the Customer Interface"
A leading in professional services firm recognized the need to upgrade levels of customer service at the front line to meet and surpass organizational objectives. It recognized a changing business environment and a need to transition to higher level relationships with customers to be a meaningful contributor to the business.

Sharon Franklin, Managing Director, PwC
Session C: "Promoting Strategy Execution: Creating a Culture of Innovation"
Moving the culture of a global company can be daunting, but by assessing the processes, emphasizing teaming and collaboration as well as shifting organizational mindset via recognition programs, training and strategic communications the company transitioned to a culture where innovation and the creation of new value is a priority.

Karen Sachs, Business HR and Communications Leader, Cargill, Inc.

During this three session workshop you will learn how to use an array of tools and tactics, including:
re-designing existing recognition platforms for fast alignment of strategy and execution
re-contextualizing communications to address collaboration, innovation, socialization
re-examining leadership and talent realities due to shifting workforces
Moderators
Carol Pletcher, Co-Founder, Global Center for Recognition
Vicky Hargrove, Vice President, Global Center for Recognition

For speaking and sponsorship opportunities, please contact Meg Gottemoeller at meg.gottemoeller@conferenceboard.org.