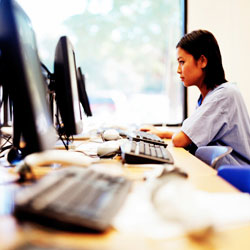 Educational Institution Memberships
The Conference Board is uniquely positioned to bridge the corporate and academic worlds by linking perspectives on the economy, management, and the role of business in society. As one of the world's most widely quoted private sources of management and economic intelligence, we are one of the few truly global not-for-profit business institutions, with a track record for both innovation and objectivity.
Colleges and universities educate America's future business leaders, and The Conference Board has been making its research available to the educational community since our founding in 1916.
As part of our mission to help businesses strengthen their performance and better serve society, we provide heavily subsidized educational associate memberships for colleges and universities.
Educators can choose from several special membership options:
Business & Economics Portfolio Our premier educational associate membership includes historical economic datasets — our most requested data, featuring the Consumer Confidence Index® and The Conference Board Leading Economic Index® for the United States — as well the 1000+ knowledge resources included in the research online collection. Site licenses are available for college and university libraries, faculty and administration departments, and individual faculty. For a full description of the Business & Economics Portfolio, click here.
Business Management and Economic Resources for Educators option is designed for presidents, deans, faculty, and other academic professionals. Benefits include unlimited access to our research, economic forecasts, and thought pieces. Memberships are offered on an individual basis and collegial memberships for up to three academics. To find out more, click here.
For more information on educational institution memberships, contact
U.S.A.Carole Walden at +1 212 339 0340 or email carole.walden@conferenceboard.org
Asia +852 2804 1000 or email service.ap@conferenceboard.org