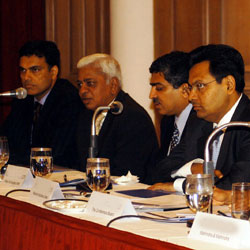 South Asia
The Conference Board's programs and activities in India, Pakistan, Bangladesh and Sri Lanka are designed to help senior decision makers in both Multi-national and local companies navigate the complex, dynamic economic and business climate in their respective countries and internationally. Programs include high level peer exchanges within our Councils, dialogue with in-house experts through live webcasts, economic research and business analysis. In support of our members in South Asia and around the world, The Conference Board brings its global perspective and expertise in such areas as economic and business cycle analysis, innovation, corporate governance, sustainability, human resources, and organizational capability to the unique South Asian business environment.
Products & Services
Peer Networks
Global Operational Excellence Council

We provide a global forum for sharing state of the art practices and successful implementation strategies to achieve and sustain business excellence.

South Asia Council on Governance & Risk Management

This council provides directors and top-management an exclusive forum for discussion of governance and risk management issues.

Global Social Investing Council

Advances the practice of cross-border corporate social responsibility and strategic philanthropy on a global scale through continuous dialogue on latest trends, issues and solutions encountered, as well as inspiring practices.
Publications
China Center Special Briefing Paper: Re-Estimating Chinese Productivity


In this second part of our Special Briefing Paper series, Dr. Harry X. Wu, Senior Advisor to the China Center, presents the second stage of findings from his 30-year-long work program to re-estimate the quantity and quality of Chinese economic growth.

(China Center Publications, September 2014)
China Center Data Flash: Q2 Mini-stimulus already losing steam


July data showed a clear sequential slowdown for the domestic side of China's economy, with industrial production, investment, and consumer purchases all slowing in the month.

(China Center Publications, August 2014)
The Global Leadership Forecast (GLF) 2014 | 2015, Ready-Now Leaders: Meeting Tomorrow's Business Challenges
New research from DDI and The Conference Board spotlights a critical difference between the top and bottom corporate financial performers: companies with higher percentages of women in leadership roles perform better. (Research Report, August 2014)
Webcasts
15 October, 2014 11:00 AM EST [11:00]
Human Capital Watch™: The Future ASEAN Leader
New research grounded in co-creation and crowdsourcing offers peer-developed solutions and best practices for developing the next generation of ASEAN leaders.
16 October, 2014 03:00 PM EST [15:00]
Governance Watch


Hosted in collaboration with Cleary Gottlieb, this complimentary webcast series is designed to address the latest developments in corporate governance through bi-monthly webcasts featuring provocative guests and expert insights.