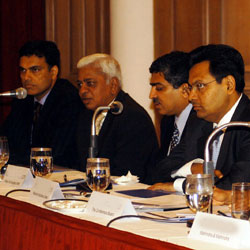 South Asia
The Conference Board's programs and activities in India, Pakistan, Bangladesh and Sri Lanka are designed to help senior decision makers in both Multi-national and local companies navigate the complex, dynamic economic and business climate in their respective countries and internationally. Programs include high level peer exchanges within our Councils, dialogue with in-house experts through live webcasts, economic research and business analysis. In support of our members in South Asia and around the world, The Conference Board brings its global perspective and expertise in such areas as economic and business cycle analysis, innovation, corporate governance, sustainability, human resources, and organizational capability to the unique South Asian business environment.
Products & Services
Peer Networks
Global Social Investing Council

Advances the practice of cross-border corporate social responsibility and strategic philanthropy on a global scale through continuous dialogue on latest trends, issues and solutions encountered, as well as inspiring practices.

South Asia Council on Corporate Citizenship and Sustainability

This council gives members an opportunity to address sustainability challenges and compare notes to ensure they have the right strategies in place to identify and deal with environmental and social performance issues.

Council of Financial Executives

This Council is one of the most prestigious forums that exist for bringing together CFOs of multinational companies to discuss current issues and challenges. Because of the confidentiality that governs the meetings, members develop a incredible trust.
Publications
Webcasts
20 January, 2015 09:00 AM EST [09:00], 03:00 PM CET [15:00]
Developing, Shaping, and Co-creating Networks for Greater Impact


Years of research and practice point to an important connection between networks and leadership effectiveness. This webcast introduces a comprehensive framework for incorporating networks into leadership development.

21 January, 2015 11:00 AM EST [11:00]
Human Capital Watch™: Human Capital Analytics @ Work
Learn new research findings from our Human Capital Analytics @ Work report and hear how other organizations are implementing human capital analytics in their companies.