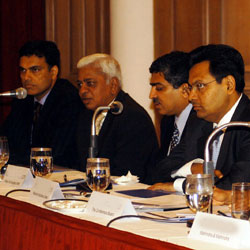 South Asia
The Conference Board's programs and activities in India, Pakistan, Bangladesh and Sri Lanka are designed to help senior decision makers in both Multi-national and local companies navigate the complex, dynamic economic and business climate in their respective countries and internationally. Programs include high level peer exchanges within our Councils, dialogue with in-house experts through live webcasts, economic research and business analysis. In support of our members in South Asia and around the world, The Conference Board brings its global perspective and expertise in such areas as economic and business cycle analysis, innovation, corporate governance, sustainability, human resources, and organizational capability to the unique South Asian business environment.
Products & Services
Peer Networks
Publications
Webcasts
27 January, 2015 09:00 AM EST [09:00], 03:00 PM CET [15:00]
Managing Virtual Teams
The skills needed to manage people collaborating virtually are in growing demand. This webcast follows the popular webcast from June 2014, "How Best to Manage a Virtual Team," and will examine in more depth key challenges facing dispersed and remote teams.
28 January, 2015 09:00 AM EST [09:00], 03:00 PM CET [15:00]
Stepping into a Global Role and Setting Yourself Up for Success
A global appointment can be exciting, challenging, and a significant career milestone for many. This webcast will offer experiences, key lessons, and hints and tips on how to approach a global role.