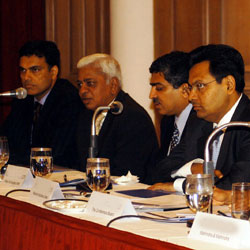 South Asia
The Conference Board's programs and activities in India, Pakistan, Bangladesh and Sri Lanka are designed to help senior decision makers in both Multi-national and local companies navigate the complex, dynamic economic and business climate in their respective countries and internationally. Programs include high level peer exchanges within our Councils, dialogue with in-house experts through live webcasts, economic research and business analysis. In support of our members in South Asia and around the world, The Conference Board brings its global perspective and expertise in such areas as economic and business cycle analysis, innovation, corporate governance, sustainability, human resources, and organizational capability to the unique South Asian business environment.
Products & Services
Peer Networks
Council of Financial Executives

This Council is one of the most prestigious forums that exist for bringing together CFOs of multinational companies to discuss current issues and challenges. Because of the confidentiality that governs the meetings, members develop a incredible trust.

South Asia Council on Corporate Citizenship and Sustainability

This council gives members an opportunity to address sustainability challenges and compare notes to ensure they have the right strategies in place to identify and deal with environmental and social performance issues.

Global Human Resources Council

Allows senior most global HR executives to discuss current challenges and trends regarding the strategic and structural management of their firm's multinational human resources. Members value the confidential dialogue, expert speakers and benchmarking.
Publications
China Center Data Flash: Unhealthy Q2 growth – pursuit of the target at the expense of reform


China's official Q2 GDP growth came in at 7.5 percent y-o-y, according to data from the National Bureau of Statistics. Our alternative measures suggest that China is growing closer to 5.5 percent.

(China Center Publications, July 2014)
BoardAsia Newsletter


Major news covered in this issue includes an overview of the Future China Business Leader un-Conference and the launch of The Future India Business Leader research report.

(Periodical, July 2014)
The Future India Business Leader
As India-based companies expand, Indian business leaders will need to build deep competency in managing cross-cultural global teams—something participants in the India Leadership 2.0 Project see as lacking at present. (Research Report, July 2014)
Webcasts
20 August, 2014 11:00 AM EST [11:00]
Human Capital Watch™: NEUJOBS (European Commission Project)
This webcast will update viewers on the European human capital environment. Is the right talent more difficult to find now that Europe is emerging from the economic crisis?
21 August, 2014 03:00 PM EST [15:00]
Governance Watch


Hosted in collaboration with Cleary Gottlieb, this complimentary webcast series is designed to address the latest developments in corporate governance through bi-monthly webcasts featuring provocative guests and expert insights.