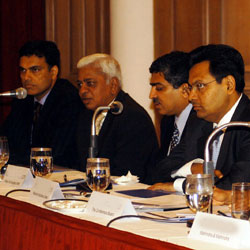 South Asia
The Conference Board's programs and activities in India, Pakistan, Bangladesh and Sri Lanka are designed to help senior decision makers in both Multi-national and local companies navigate the complex, dynamic economic and business climate in their respective countries and internationally. Programs include high level peer exchanges within our Councils, dialogue with in-house experts through live webcasts, economic research and business analysis. In support of our members in South Asia and around the world, The Conference Board brings its global perspective and expertise in such areas as economic and business cycle analysis, innovation, corporate governance, sustainability, human resources, and organizational capability to the unique South Asian business environment.
Products & Services
Peer Networks
Publications
The Long Soft Fall in Chinese Growth: White Paper


Presented here with thorough detail and analysis are the trends, dynamics, and factors of the slowdown; China's productivity crisis; the necessary policy reforms; and near-, medium-, and long-term projections for the MNC operating environment.

(Key Business Issues, October 2014)
The Long Soft Fall in Chinese Growth: Business Realities, Risks, and Opportunities
China's economy growing by leaps and bounds is a thing of the past. How should multinational corporations adjust their investment and market strategies and prepare their organizations for sustaining and driving growth in this time of unprecedented change? (Key Business Issues, October 2014)
BoardAsia Newsletter


Major news covered in this issue includes an overview of the Strategic Workforce Planning Academy Asia Program and highlights on The Conference Board Key Business Issues initiative.

(Periodical, October 2014)
Webcasts
04 November, 2014 09:00 AM EST [09:00], 03:00 PM CET [15:00]
Book Discussion: Make your people before you make your product


During this discussion, Danny Kalman, former Global Director of Talent at Panasonic, will describe how organizations can gain a global competitive edge through better management of talent resources.

19 November, 2014 11:00 AM EST [11:00]
Human Capital Watch™: The Global Leadership Forecast 2014
The Global Leadership Forecast is the largest research study of its kind, examining leadership development and talent management practices among organizations in major industries and economies around the globe.