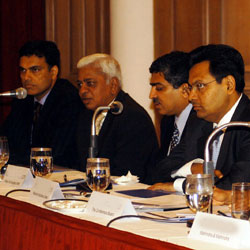 South Asia
The Conference Board's programs and activities in India, Pakistan, Bangladesh and Sri Lanka are designed to help senior decision makers in both Multi-national and local companies navigate the complex, dynamic economic and business climate in their respective countries and internationally. Programs include high level peer exchanges within our Councils, dialogue with in-house experts through live webcasts, economic research and business analysis. In support of our members in South Asia and around the world, The Conference Board brings its global perspective and expertise in such areas as economic and business cycle analysis, innovation, corporate governance, sustainability, human resources, and organizational capability to the unique South Asian business environment.
Products & Services
Peer Networks
Global Council of Investor Relations Executives

Senior investor relations officers of large-capitalization companies in both Europe and the United States share best practices in a confidential and member-driven forum. Members value the intimate and candid conversations that develop in the meetings.

Global Human Resources Council

Allows senior most global HR executives to discuss current challenges and trends regarding the strategic and structural management of their firm's multinational human resources. Members value the confidential dialogue, expert speakers and benchmarking.

Council of Financial Executives

This Council is one of the most prestigious forums that exist for bringing together CFOs of multinational companies to discuss current issues and challenges. Because of the confidentiality that governs the meetings, members develop a incredible trust.
Publications
Webcasts