Corporate Political Spending: Shareholder Activity
Shareholders have made use of shareholder proposals to raise the issue of corporate political spending. These resources will assist you in understanding who the shareholder proponents are and how shareholders are reacting to the issue.
A review of the 2012 Proxy Season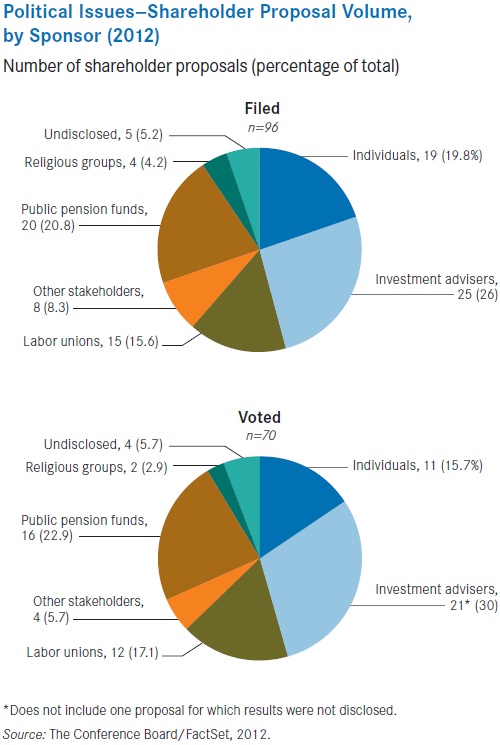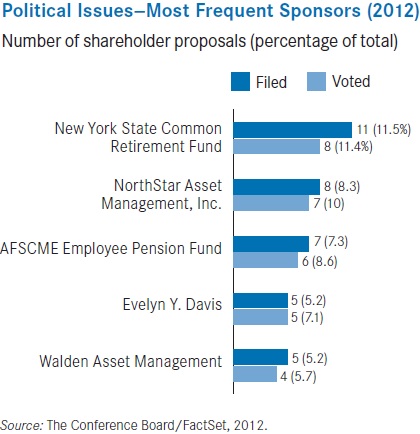 Resources
Center for Political Accountability Corporate Disclosure and Accountability Database
"Search for company political spending reports and industry disclosure leaders with our newly updated Corporate Disclosure and Accountability Database." Includes links to corporate policies.
ISS U.S. Proxy Voting Summary Guidelines
"Each year, ISS' Global Policy Board conducts a robust and transparent global policy formulation process which culminates in benchmark guidelines to be used in its proxy voting research for the upcoming year. More information on Policy Outreach for 2012-2013.
The complete set of ISS Global Benchmark Policy Guidelines consider market-specific recommended best practices, transparency, and disclosure when addressing issues such as board structure, director accountability, corporate governance standards, executive compensation, shareholder rights, corporate transactions, and social/environmental issues. The Polices below will be in effect for shareholder meetings on or after February 1, 2013."
Proxy Monitor by The Manhattan Institute's Center for Legal Policy
"ProxyMonitor.org, a website sponsored by the Manhattan Institute's Center for Legal Policy, sheds light on the influence of outside shareholder proposals on publicly traded corporations.
Users can search the Proxy Monitor database by year, company, industry, proponent (primary sponsors of shareholder proposals), and proposal type (general or specific.) Searches on the Proxy Monitor database generate tabulated data which can be exported or downloaded. Tabulated output includes each of the search parameters, as well as proposal titles, vote totals, and basic voting rules (i.e., whether abstentions are counted in vote totals). Users have various options for reordering, sorting, and categorizing data on the search output page."
The Conference Board does not represent that the data, information, analysis, conclusions or opinions provided by the listed Internet resources are correct or complete. The Web sites and resources listed above are included for informational purposes and convenience only, and are not affiliated with, endorsed or recommended by The Conference Board.
Updated: 1/8/2013