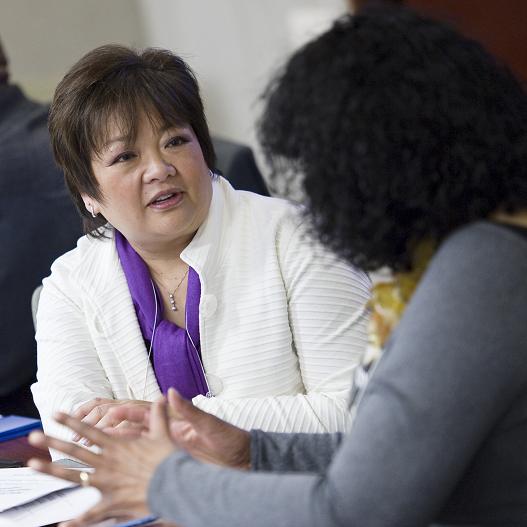 Program Description
The Conference Board Diversity & Inclusion New Leaders Boot Camp is designed to help new diversity and inclusion leaders develop and execute an effective strategy for their organizations.
Below, you will find a brief program description.
Program Description
The Boot Camp focuses on helping participants develop effective D&I strategies and initiatives. Participants learn real-world lessons from current and former D&I leaders in an interactive forum.
The program includes two in-person sessions led by premier D&I practitioners, plus webcasts on pertinent topics. A learning coach and peer coaches also supplement your development. In addition, assessments may be used to help you better understand your own and others' styles and preferences and how to effectively influence others by taking these into account.
Participants are expected to complete pre-work before the first in-person session. Between the two sessions, they will complete a project of their choice applying Boot Camp learning to accelerate accomplishment of their organizations' D&I objectives.
Sessions
Global Business Context: Building and Implementing Your D&I Strategy
Whether you are leading D&I for a global organization or a local company, a sound strategy tied to business needs is critical to your success. Faculty will describe how to design a strategy grounded in a robust business case and will present options for driving strategy in partnership with targeted constituencies such as Women's and LGBT, and programs such as Employee Resource Groups.
Helping Leaders Commit: Influencing and Integration Strategies
When your leaders commit to making the most of D&I by weaving it into internal processes across the business, you achieve results that stick. Boot Camp Faculty will share successful tactics for influencing senior leadership and other critical stakeholders, such as your peers in the Human Resources function.
Understanding Yourself and Others: Cultural Awareness and Dexterity
Taking different perspectives and styles into account will grow your impact as you work with people with a broad mix of worldviews and ways of working. Faculty will debrief your results from one of more assessment tools to help you gain deeper insight into your own beliefs and preferences and how they compare to others.
Managing Change: Transforming Your Organization for D&I
Ultimately, D&I is not about awareness, but about transformation. Faculty will address common barriers and share strategies for accelerating change leading to sustainable institutionalization of D&I into your leadership, culture, and the way work gets done every day.
Counting What Counts: How to Measure D&I Progress, Results, and Impact
Identifying and using effective metrics can challenge the D&I function as we strive for increased business credibility, resources, and support. Faculty will share current practices, varied approaches, and useful tools and resources to help participants address these goals.