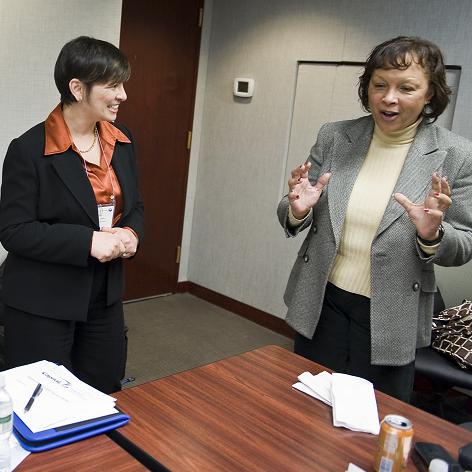 Faculty & Learning Coaches
Faculty
Boot camp faculty are experienced business leaders from Fortune 500 organizations who are subject matter experts in diversity & inclusion, organizational design, and leadership and development.
By sharing their insights and experiences, boot camp faculty will impart real, usable knowledge that participants can apply to their jobs in real time.
Learning Coaches
Our learning coaches are business executives that have successfully developed and executed diversity and inclusion strategies. Over the course of several monthly calls, participants and their learning coach will focus on strategy development and execution that can be applied to their current roles.
If you are a current or former chief dIversity officer and are interested in becoming a learning coach, please contact Toni Riccardi at toni.riccardi@conference-board.org.
Past Faculty and Learning Coaches have included
Jennifer W. Allyn
Managing Director, Office of Diversity
PwC
Read Bio
Rohini Anand
Senior Vice President and Global Chief Diversity Officer
Sodexo, Inc.
Read Bio
Anthony P. Carter
Vice President, Global Diversity & Inclusion and Chief Diversity Officer
Johnson & Johnson
Read Bio
Deborah Dagit
Vice President and Chief Diversity Officer
Merck
Read Bio
Shinder Dhillon
Global Director, Talent Management, Diversity & Inclusion
Air Products and Chemicals, Inc.
Read Bio
Amy George
Vice President, Talent, Diversity and Inclusion
Terex Corporation
Read Bio
Sheila Johnson
Director Diversity & Inclusion
Gap Inc.
Audrey Lee
Vice President
Hyun & Associates
Read Bio
Lydia Mallett, PhD
Vice President, Staffing and Diversity
Tyco International
Read Bio
Stephanie Quappe
Global Talent Management
Deloitte Touche Tohmatsu Limited
Read Bio
Norma Tombari
Director, Global Diversity
RBC
Read Bio
Vicki Walia, PhD
Vice President, Director of Talent Development and Centers of Excellence
AllianceBernstein L.P.
Read Bio
Eric Watson
Vice President, Office of Diversity & Inclusion
Delhaize America
Read Bio
Boot Camp Leaders:
Toni Riccardi
Chief Diversity Officer
The Conference Board
toni.riccardi@conference-board.org
Read Bio
Rebekah Steele
Program Director
The Conference Board
rebekah.steele@conference-board.org
Read Bio