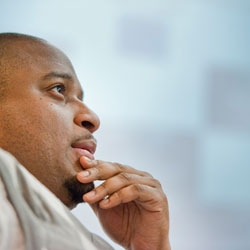 Testimonials
.
Companies that have participated in The Conference Board D&I New Leaders Academy:
Allianz SE, Avanade Inc., AXA Group, British American Tobacco, Cargill Europe, DSM Food Specialties, Merck KGaA, Nestlé, Sodexo, Syngenta International AG, The SKF Group, TOTAL PETROCHEMICALS, Cisco, FM Global, A.P. Moller-Maersk, Shell International and Maersk Oil.
Set the skills that lead the way to organizational change.
"For faculty and learners, the Academy experience created an exceptional opportunity to connect with D&I colleagues in classrooms and to bond further over meals while enthusiastically discussing theory, practice and impact. These connections across international and organizational lines enabled conversations vital to disrupting, expanding and propelling ideas that allow us together to make more meaningful and more sustainable impact through D&I. Having been so effectively engaged, we all left the Academy with a multitude of new ideas and a redoubtable camaraderie that will enable us each to make the most of diversity in our respective organizations."
Rebekah Steele, Global Diversity & Inclusion Executive and member of the Faculty of The Conference Board's D&I New Leaders Academy
"The D&I Academy has met my highly set expectations - both in terms of content and faculty - as well as the global scope of companies joining and the eagerness and willingness of all individuals to share challenges and best practices. I no longer feel alone - I feel part of an international community equally committed to equality and diversity as myself - and this is strengthening my general drive, as well as helping me answer concrete questions as I go along."
Karin Franklin, Manager Diversity, SKF Group Headquarters
"Approaching Diversity & Inclusion (D&I) from a regional or global perspective can be quite different from a country-specific perspective. There are few development options available to support new D&I practitioners in their international roles, beyond the direct coaching of their manager or predecessor. The Conference Board's D&I Academy offers a solution to supplement this through a format that combines real-life experience from many D&I senior professionals, coaching, and networking."
Lisa Kepinski, Chief Diversity & Inclusion Officer, AXA Group
"By offering first hand insights into how a complex matrixed organization in the oil and energy industry, drives a D&I strategy, obtains sustainable results year over year, and increases the CEO's and EC's visibility to implement further behavioral changes to expand inclusion, is a learning that is worth sharing with others. There may be significant lessons on the way that may be inspiring, as well as struggles that could be avoided."
Josefine van Zanten, Senior Vice President, Culture Change, DSM