Global Economic Outlook 2015 - Key Findings
NOVEMBER 2014
Global Economy to see only a modest growth in 2015
---
Click on the Chart to Browse Forecasts by Country and Region.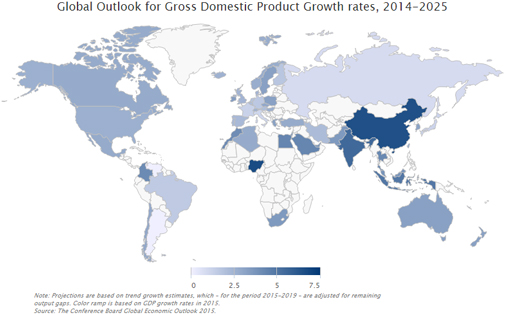 ---
Global Growth Doesn't Gain Much Traction
Barring major geopolitical upheaval, global economic growth in 2015 will hold at a rate of 3.4 percent in 2015. The United States will continue to grow, but the expansionary phase will show signs of maturing, causing a moderation in profitability, joined by a variety of cost pressures. European economies have more scope to recover, but there are dark clouds—from slowing exports to emerging markets, especially hurting Germany's growth engine, and a dysfunctional policy environment to tackle deflationary pressures. China will continue its "soft fall", as government stimuli will have less effect and monetary policy will become tighter. Other major emerging markets will continue to grow, but growth will vary, depending on the pace of reforms. New geographies for growth, such as Africa and parts of Asia, offer opportunities to build sustainable growth models, but they also bring challenges on economic, legal, and institutional fronts. Downsides to the global outlook relate to intensifying political and economic risks; upsides relate to the ability of policy and business to invest in people, raise productivity, and rebuild trust and confidence.
For a full overview of The Conference Board Global Economic Outlook 2015, download StraightTalk® which includes the strategic overview of the outlook (members only).
Business Outlook
US: MODERATELY POSITIVE
US growth will grow at a modest 2.6 percent in 2015.
Profitability may come under increased pressure as the business cycle matures and cost increases are imminent.
America's strength in technological progress needs to help accelerate productivity.
EURO-AREA: CAUTIOUS SHORT-TERM OPTIMISM, BUT DOWNSIDE RISKS ACCUMULATE
Despite significant downside risks, the Euro Area is projected to grow at 1.6 percent in 2015, almost double that of 2014.
Modest recovery in domestic consumption is a likely source of growth as labor markets improve.
However, disinflation or even deflation could bring growth rates further.
ASIA-PACIFIC: CHALLENGING IN CHINA; MOSTLY POSITIVE ELSEWHERE
Despite softening growth rates, the Asia-Pacific region remains the leader for global growth.
Growth rates of China and India are converging to 5.5 percent from 2015–2019.
Despite short-term headwinds from global economy, Southeast Asia will strengthen to global production base.
LATIN AMERICA: UPSIDE POTENTIAL
Economic conditions in Latin America are unlikely to improve rapidly in 2015, with regional growth at only 1.8 percent.
Slowing prices for commodity and energy exports provide significant downside.
Productivity growth should build on investment, improved business confidence, and a better educated labor force.
AFRICA: POSITIVE, BUT UNCERTAIN
GDP growth in Africa in 2015 is projected at 4.4 percent.
Nigeria will be the strongest performer at 6.7 percent growth in 2015, but heavily dependent on natural resources and vulnerable to global demand.
A positive growth outlook for Africa is strongly dependent on improved institutional performance and better governance.
For a full overview of the business implications from The Conference Board Global Economic Outlook 2015, download the Global Overview Report which provides a discussion of results by major regions (members only).