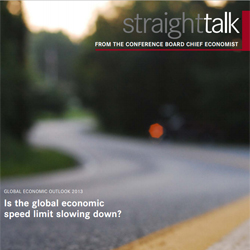 StraightTalk®
Global Economic Outlook 2013: Is the global economic speed limit slowing down?
Bart van Ark
Chief Economist
The Conference Board
November 2012
The global economy has yet to shake off the fallout from the crisis of 2008–2009. Global growth dropped to almost 3 percent in 2012, which indicates that about a half a percentage point has been shaved off the long-term trend since the crisis emerged. This slowing trend will likely continue. This special issue of StraightTalk provides two possible explanations for the slow growth of the global economy: a lack of demand or the weakening of supply drivers. In addition to outlining the downside risks that exist, this special release points out the opportunities that can drive a positive deviation from a slow-growth trend.
StraightTalk is a quarterly publication from the Chief Economist of The Conference Board. It provides economic research, objective analysis, and forecasts to help new economy business executives assess economic conditions impacting their markets.