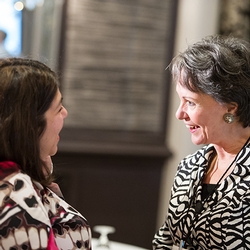 15th Annual Talent Management Strategies Conference
Best Practices and Processes for Maximizing the Impact of Talent Decisions
03 - 04 February, 2015
Marriott Downtown
New York, NY

02 February, 2015 — Pre-Conference Seminar: Using Technology for Strategic Talent Management
(Click to display details below)

03 - 04 February, 2015 — 15th Annual Talent Management Strategies
(Details are being shown below)

03 - 04 February, 2015
Especially designed for Human Resources leaders and Talent Management professionals, the Talent Management Strategies Conference will help you address your most pressing talent management issues.
By the end of this conference, participants will:
Hear how organizations are innovating talent management processes, aligning the business and an engagement strategy to address new business challenges
How new technologies – Mobile, Social Media, Integrated HR Systems are changing the game
Challenge how talent professionals use predictive data and analytics, and leverage technology to provide more aligned and competitive talent solutions
Implications of the latest research findings on engaging, the Next Gen Workforce and your global talent pool
How to build a culture that promotes collaboration and inclusion to drive engagement
Articulating and rewarding the behaviors needed to drive Change Management and the Customer Experience
How companies are using a regular cadence of Leadership Development assessment and follow-up to drive Succession 2.0
Network with talent management professionals and build your skills as a talent management practitioner
Conference sessions include:
Labor Shortages in Mature Economies – Implications for the Future of Talent Management

Closing the Global Talent Gap: Build, Buy, Borrow, or None of the Above?

What Are are Top Companies Doing to Identify and Assess their Future Leaders: Key Insights from Talent Management Benchmark Research

Integrating Your Talent and Succession Process to Better Identify High Potentials

Social Media: Engaging and Retaining Talent in New and Different Ways

Talent Acquisition: Challenges and Insights

Talent Management and The Three Generation Workplace

DNA of Highly Engaged Cultures: How Organizations Create and Sustain Them

Enhancing Your Pipeline Strategy

Panel Discussion: Issues and Challenges facing Talent and Executives and What to do About Them

Case Study Presentation: Talent Management at J&J

Case Study Presentation: Onboarding Talent Management for Engagement and Retention

Optimizing Human Capital with Analytics

Panel Discussion: Future Directions for Talent Management
Please check back to site for more details!
For Sponsorship Opportunities please contact Michael.Felden@conference-board.org
For Speaking Opportunities please contact Denise.Sinuk@conference-board.org