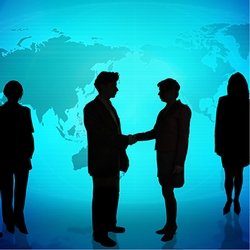 Onboarding LABS Conference
The New Hire Experience
22 - 23 April, 2014
The Conference Board Conference Center
New York, NY
21 April, 2014 — Workshop I: Millennial Strategies: Pre-hire, Onboarding, Engagement and Retention
(Click to display details below)

22 - 23 April, 2014 — Onboarding LABS
(Details are being shown below)

22 - 23 April, 2014
Onboarding has moved well beyond provisioning at leading global firms; it is the new frontier for the minds and hearts of employees new to organizations. The Onboarding experience can simultaneously super charge talent acquisition and engagement strategies for firms where talent is crucial and competitive. The 2014 LABS will provide deep dive research and case studies from thought leaders and practitioners striving to move Onboarding forward in practice and impact.
Without appropriate onboarding practices, a new hire's success with an organization becomes a much more "sink-or-swim" proposition. Increasing speed to competence and productivity must be key features of any onboarding program.
Benefits of attending the Onboarding seminar include learning:
To develop appropriately blended onboarding experiences including online learning, classroom learning, or social learning through peer to peer formats
Methods to align onboarding and leadership development programs
Practices to ensure the quality of new hire curricula, so knowledge and skills can begin on day one
Tactics for putting forward-looking development plans in place
Leveraging technology to provide deeper new hire experiences
Techniques to connect new employees and increase collaboration and productivity
Day One
Registration and Continental Breakfast: 8 – 9:00 am
Welcome and Introduction: 9:00 – 9:15 am
Omar Andrade
LAB A: 9:15am – 11:30 am
Based on Cisco's emerging new global orientation event the LAB will leverage key differentiators which include interactivity and a focus on discovery through the creation of the atypical classroom as a new hire learning experience. By examining the Cisco journey as it re-designs its Onboarding platform globally attendees will also develop capabilities applicable to their own organizations. Specific focus will be given to senior executive buy-in, designing activities of high relevance to different new hire populations and creating a cohesive company-wide new hire experience.
Michael Cannon, Director, Talent Management, Global Professional Development, Cisco Systems, Inc.
Refreshment and Networking Break: 10:30 – 10:50 am
Onboarding Maturity Curve Assessment Mini-LAB B
General Session B: 11:30 – Noon
Facilitated by their multi-year survey and as a pre-cursor to the Day 2 LAB Kaiser Associates and the group as a whole will devise and fine tune a quick and easy tool to help participants identify and benchmark their organization's Onboarding processes and practices against emerging industry standards.
Lilith Christiansen, Vice President, Kaiser Associates
Lunch: Noon -1:15pm
Talent Acquisition Meets Onboarding: The Candidate and Employee Experience
General Session C: 1:15 – 2:00
LivePerson places great value in company and culture-specific learning and engagement that occurs as part of one's candidate experience, continues with onboarding, and onward through the longer employee experience and life-cycle. LivePerson will share insights into the design of its unique CEO-supported Global Welcome Experience and highlight several other strategic onboarding initiatives designed to ensure a comprehensive, connected and culturally-minded candidate and employee experience.
Edie Mitchell, Global Director, Learning and Talent Development, LivePerson, Inc.
The ROI and Business Case for Onboarding
General Session D: 2:00pm – 3:00pm
Informed by findings from a worldwide millennial and employee engagement surveys PwC has embarked on the difficult task of measuring the true value and ROI on good Onboarding. The session will investigate some key Onboarding principles including:
Target turnover number for new hires.
Using a C-suite dashboard to understand the investment, and ROI, on new hires.
Developing a compelling business case for investment in Onboarding.
Measuring new hire engagement and successful onboarding after their first month and then when they should be fully engaged and when the honeymoon is over.
Joanne Veech, Director of Global Talent, PwC
Networking Break: 3:00pm -3:30pm
Onboarding and the Knowledge Economy
General Session E: 3:30pm – 4:30pm
Professional services firms and other knowledge economy businesses hold among the most expensive and difficult workforces to replace. They are bound together by strong culture, functioning across geographies in complex and highly matrixed organizations. When people truly are your most valuable asset no touch point can be neglected. In this instance a focus on speed to contribution and relevance are examined.
Kari Merkel, Talent Development Manager, Booz Allen Hamilton, Inc.
David Bruesehoff, Director, Talent Management, Ernst & Young
Day Two
Registration and Continental Breakfast: 8 – 9:00 am
Global Onboarding 2.0
General Session A: 9:00am – 10:00am
JPMorgan Chase will share its improved new hire experience through effective collaboration between across HR, IT during its global roll out of a new hire portal and new hire survey. Benefits include the streamlining of a highly complex compliance initiative, comp and benefits, orientation and action planning for its pre-hire/new hire community. Additionally the session covers the design of an Onboarding agenda for contingent employees and a successful launch of a new off-boarding program leveraging lessons learned via Onboarding.
Judith Lannin-Panagakos, Executive Director, Human Resources, JPMorgan Chase
Leveraging Globalization to Move Onboarding Forward
General Session B: 10:00am – 11:00am
Bechtel has embarked on a global redesign of content delivery and onboarding pro­gram. They have identified an opportunity to capture innovation and emerging best practices strategies learned from their extensive work in global emerging markets; this then informs the onboarding and learning content of the business at home.
Patrick J Martin, Manager of Content and Curriculum Development, Bechtel Corporation
Laura Hastings, Onboarding Project Lead, Bechtel Corporation
Refreshment and Networking Break: 11:00 – 11:30 am
21st Century Onboarding: Social and 'Gamified'
General Session C: 11:30am – 12:15am
Learning has a meaningful role in Onboarding. While online learning provides significant benefits in terms of standardization, agility, cost-effectiveness and scale, it lacks the human touch. Leading organizations have successfully leveraged new age techniques such as social learning and gamification to create the engagement factor and a more personalized experience for the new hires.
Mohit Garg, CEO, MindTickle
Lunch: 12:15 -1:30pm
Successful Onboarding
LAB C: 1:30 pm – 4:30pm
Lilith Christiansen, Vice-President, Kaiser Associates
Author, Successful Onboarding: A Strategy to Unlock Hidden Value within Your Organization
Refreshment and Networking Break: 2:45pm – 3:15pm
For sponsorship opportunities, please contact Michael Felden at Michael.Felden@conferenceboard.org.
For speaking opportunities, please contact Denise Sinuk at
Denise.Sinuk@conference-board.org.