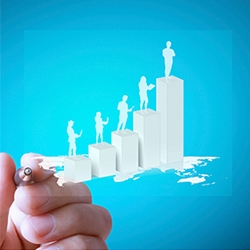 Cracking the Code on Career Development Seminar
The Intersection of Conversation, Curiosity and Creativity
03 March, 2014
The Conference Board
New York, NY
03 March, 2014
Join Dr. Beverly Kaye, an internationally recognized authority on development, retention and engagement in the workplace, and Julie Winkle Giulioni, an award-winning learning strategist and instructional designer, as they share findings from their book Help Them Grow or Watch Them Go: Career Conversations Employees Want.
Time-starved leaders and the organizations they support struggle with initiative after initiative in an effort to connect with employees, elevate engagement, drive performance and build a learning culture. Yet too frequently, these efforts deliver disappointing results. Perhaps it's time to revisit this programatic approach and consider something more relevant and results-producing.
Research continues to confirm what practitioners know all too well: what employees want - even more than money in most cases - is support for their professional development and career growth. Do this and you'll not only harness human potential; you'll also drive extraordinary business results and create the only truly sustainable competitive advantage.
And it may be simpler than anyone realizes because it all comes down to refocusing three qualities that are already present to one degree or another in most organizations:
Conversation: Transforming routine interactions that occur day in and day out between employees and leaders into powerful development moments.
Curiosity: Turning on this natural tendency so that leaders and employees alike can approach their work, their futures and each other with a spirit of inquiry.
Creativity: Thinking outside of the normal development box to generate options and possibilities that are consistent with today's flat and flat-out organizations.
This session sheds a much needed light on effective methods and specifically what managers can do - within the time-starved, priority-rich, pressure-cooker environment in which they operate - to bring these three qualities into clearer focus. A panel of internal HR leaders will share their perspectives, recommendations, and lessons learned. You will walk away with practical tools, implementation suggestions, and a new simplified model that will help managers from your organization:
Understand the perceived barriers to career development in 2014

Gain perspective on alternatives to traditional models and mindsets

Deconstruct curiosity, its behaviors and strategies

Explore out of the box (and out of the training room) development strategies

Hone a powerful but spontaneous model for conducting on-the-spot career conversations

Dialogue with internal practitioners about their best practices
Agenda:
8:00-9:00 am – Registration and Continental Breakfast
9:00-9:10 am – Welcome: Conference Board
9:10 – 9:30 am – Beverly Kaye
The New Context for Development
Program Objectives
Key Stakeholder Discussion
9:30 – 10:15 am – Julie Winkle Giulioni
The Business Case
Myths that Immobilize Managers
10:15 – 10:30 am – BREAK
10:30 – 11:30 am – Beverly Kaye
Curiosity: A Crucial Gateway Competency
Understanding a New Career Conversation Model
11:30 am – 12:30 pm – Julie Winkle Giulioni
The Creativity Connection
Mobility: Applying the Climbing Wall Metaphor
Career Cues that Managers Miss
Afternoon Assignment
12:30 – 1:30 pm – LUNCH
1:30 – 2:00 pm – Julie Winkle Giulioni
Transferring Ownership
Five Leadership Priorities
2:00 – 3:00 pm – Panel Conversations with Beverly Kaye and Julie Winkle Giulioni

Jayne Johnson
VP, Talent, Learning & Organizational Development
GMCR
Jill Altana
Division Vice President, Employer Services Worldwide Sales and Marketing HR
ADP
Corry Loli
Executive Director, Talent Management & Talent Acquisition
Boehringer-Ingelheim
3:00 – 3:15 pm – Networking Break
3:15 – 3:45 pm – Panel Conversations Continued
3:45 – 4:00 pm – Conclusion: Talent Talks