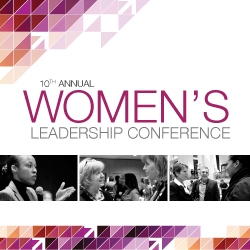 18 June, 2014 — Pre-Conference Seminar: Skills for Leaders of Today and Tomorrow
(Click to display details below)

19 - 20 June, 2014 — Women's Leadership Conference
(Details are being shown below)

19 - 20 June, 2014
Creating the Future by Re-Creating the Workforce
Women's leadership is a global business issue. it needs to be addressed systemically across the enterprise and include the involvement of both women and men at all levels of leadership. The 10th Annual Women's Leadership Conference will focus on how line and HR leaders work together to advance their organization's talent agenda and competitive advantage by attracting, hiring, developing, retaining, sponsoring and promoting women in every industry sector.
WHY YOU SHOULD ATTEND:
Knowledge of how men and women can join forces to create the workplace of the future
Insights into the success factors of women in the C-suite and input into continuing research
A new approach to assimilating a new generation of women leaders into organizations
Enlightenment around the past, present and future of women's compensation globally
Awareness of senior roles in the marketplace available and being acquired by women
Success stories from representatives of leading organizations on designing, implementing, sustaining and measuring women's initiatives
The important role that demographics, labor markets and consumer behavior across industries have on the future of women in the global economy
New ideas and networks for building leadership capability across an enterprise including a call to action for advancing an unbiased workforce agenda leading to competitive advantage
WHO SHOULD ATTEND

The Women's Leadership Conference is a valuable source of information, insights, networking and development for leaders and managers across industries, functions and organizational sizes, including:
Women and men in senior leadership positions
High-potential women and men looking to enhance and advance their careers
Line professionals responsible for hiring, developing and advancing an unbiased workforce
HR leaders overseeing diversity and inclusion, leadership development, talent management and acquisition, strategic workforce planning, total rewards, and/or organizational development
Plus! New for 2014
Engaging Men - A dynamic session focusing on research about engaging men in the charge of advancing the women's leadership agenda.
For more information Download the full agenda
The Conference Board is proud to partner with the Red Shoe Movement: Women Supporting Women for Career Success (RSM), the only women empowerment platform born from a movement and sustained by a movement. The ultimate goal of the RSM is to help move the needle on female representation at executive levels across industries, which can best be achieved when women take ownership of their motivations and aspirations. Connect with the movement! Please wear your red shoes and red ties to the conference in support of women career advancement.
For speaking opportunities, please contact Denise Sinuk at
Denise.Sinuk@conference-board.org
For sponsorship opportunities, please contact Michael Felden at Michael.Felden@conferenceboard.org